People
Interview with Jeroen Eggink, Cartec product trainer
11-02-2020
The Cartec team is one big family, so there are always stories to tell. In the "people" section we interview a colleague about his or her work, but also about dreams, trends and what we simply always wanted to know about them. This is ...

Who are you and what is your job?
"My name is Jeroen Eggink, product trainer at Cartec and owner of a car care company in Overijssel. I also write articles for this website about Cartec products and related techniques."
What really gives you joy at work?
"Sharing knowledge and experience with others, so the Cartec products can be used optimally for a better result."
What does a typical workday look like?
"I organize two or three product training sessions a month. Mostly at the head office in Benthuizen and sometimes at my own company in Balkbrug."
Around 8.00 am, I open the training facility and do some preparations. When the students are in, we start with a theory lesson, followed by a practical session in which we wash and polish a car."
"After lunch, we start with a short theory lesson and after that, we go back to the car to apply a coating on the car. During the day, I try to teach the students as much as possible about the products and their use."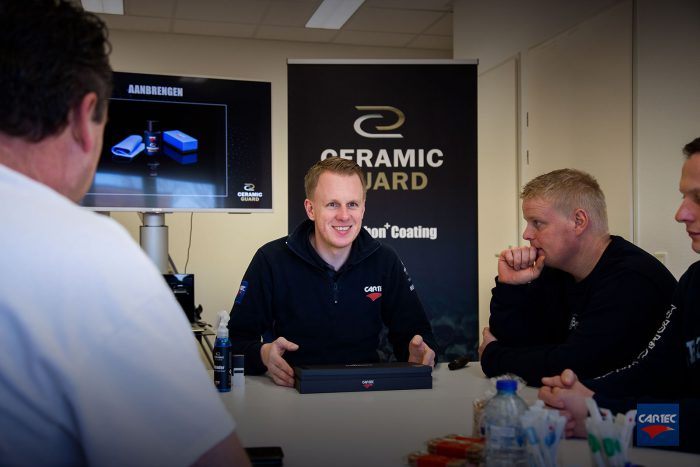 How did you end up in this business?
"Back in the days, I always took great care of my car. I spent a lot of time washing and cleaning and I regularly visited a company that worked with Cartec products. The polishing went well with me and after a while, more and more people asked me to do their car. At one point I was asked so often to clean someone else's car, I started a cleaning company."
"Because of my positive experiences, I immediately started working with Cartec products. Since then, the relationship with Cartec has become ever closer. In such a way that I started as a product trainer for Cartec in 2018."
What skills are especially important for your job?
"In my opinion, you have to be very precise. But you also have to be patient and a 'professional idiot' to do a proper product training."
How do you stay on top of emerging trends?
"Thanks to conversations with fellow entrepreneurs, but I also read trade magazines, visit (foreign) trade fairs and have a lot of contact with Jos (Willemsen, ed.) about the development of new products. And as a product trainer, I am closely involved in testing the new products in practice. That obviously helps a lot."
What do you particularly like about your job?
"When students are satisfied after a course and go home with a lot of knowledge, so they can use the Cartec products even better for a prettier result."

What is your greatest skill?
"Polishing, definitely. I have always been able to distinguish myself and what obviously played a part in the decision to start my own business. I am also good in making people enthusiastic about a product or service."
What is the best advice you can give as a product trainer?
"A proper preparation ensures 95% of the result. So take care of that. And read the instructions before using the product! No matter how good the product is, if you don't handle it properly, you'll never get the desired result."
What do you like about Cartec?
"In addition to the great products, Cartec is a typical family business that always treats people positively and is easily approachable. I love that. You feel part of a large family pretty soon. I also like the fact that Cartec has become a global player!"
What are you most proud of?
"The fact that I run a successful company and work as a product trainer for such a beautiful and leading brand as Cartec."
What's your biggest dream?
"To provide product training sessions for Cartec all over the world and raise the quality of the Cartec products to an even higher level."