People
Interview with production manager Daco Moerman
12-03-2020
The Cartec team is one big family, so there are always stories to tell. In the "people" section we interview a colleague about his or her work, but also about dreams, trends and what we simply always wanted to know about them. This is ...

Who are you and what do you do at Cartec?
"My name is Daco Moerman. At Cartec I am responsible for the production. I ensure that there are enough raw materials, make the production planning and keep the ADR journals, in which we register the hazardous substances we use. Another part of my work is to continuously think about how we can work safer, cleaner and more efficient. For example, I recently welded a new weighing tank together, making production safer and faster."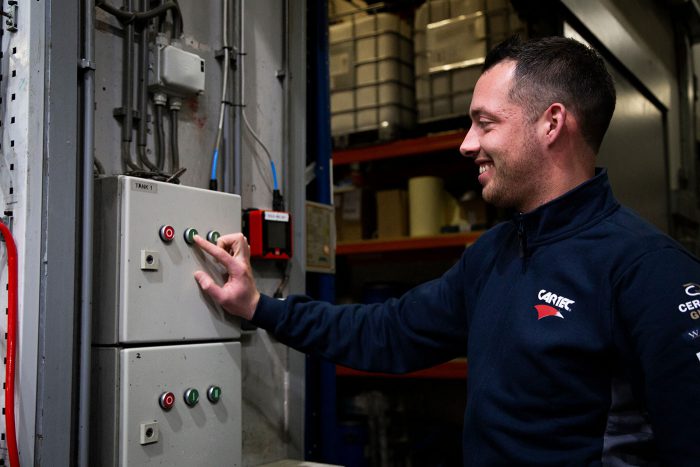 "It is part of my job to continuously think about how we can work safer, cleaner and more efficient."
"In my spare time I am also active as a voluntary firefighter. My work and hobbies have similarities. This way I also come into contact with hazardous substances at the fire brigade. I can use the knowledge I gain there at Cartec and vice versa."
What really gives you joy at work?
"I like the fact that we produce a lot on a small surface. As a result, I also have to think about the consequences of my decisions on the rest of the planning. Once you start producing a product, that tank is occupied for a certain time."
What does a typical workday look like?
"I first take a look at the schedule for that day. Sometimes that starts the day before with preparing the tanks by filling them with water. I always plan my days half full. In the afternoon I have time to do things that come your way unexpectedly, or to produce products we ran out of. At the end of the day, I always check whether new raw materials need to be ordered. I also do this when a large order arrives. It's not like you order something from Amazon Prime. The delivery time of a certain raw material can easily be two months."
How did you end up in this business?
"I started in the warehouse about 4.5 years ago. After a year I was asked if I wanted to work in production. Without prior education I rolled in there and learned the trade. My background with the fire brigade helped me, so I already knew something about dangerous substances. Although it sometimes works the other way, because I now really know how those dangerous substances behave."

"If you had told me six years ago that the products I make now go all over the world, I would have laughed at you. Previously, I worked at a tree nursery, with only a high school degree. Look where I stand now. That is the beauty of Cartec. If you show what you are worth here, you get a lot of opportunities. Because of the way they trust you at Cartec, you also want to show what you are worth."
What skills are especially important for your job?
"You have to be able to work very accurately and neatly and to know what you are doing. You work with hazardous substances. And you have to be able to drive a forklift very well. Driving with large barrels full of liquid raw materials is a completely different thing than driving with a pallet full of boxes."
How do you stay on top of emerging trends?
"It is a very specific subject that not many people practice, so I mainly do my own research. Look, most companies have less than ten products and then produce large volumes of them. We have approximately eighty products that we produce regularly. Suppose a brewer produces ten beers. He can make a beer on Monday morning and another one in the afternoon. We sometimes make fifteen different products in one day, so that is a completely different story."
What makes you happy in your work

?

"Large orders, when it is very busy. I am also a bit of my own boss in my department, which makes the job real fun."
What are you really good at?
"Always stay calm. When it is busy, I keep thinking clearly and don't get stressed. I am also good at solving problems and devising solutions."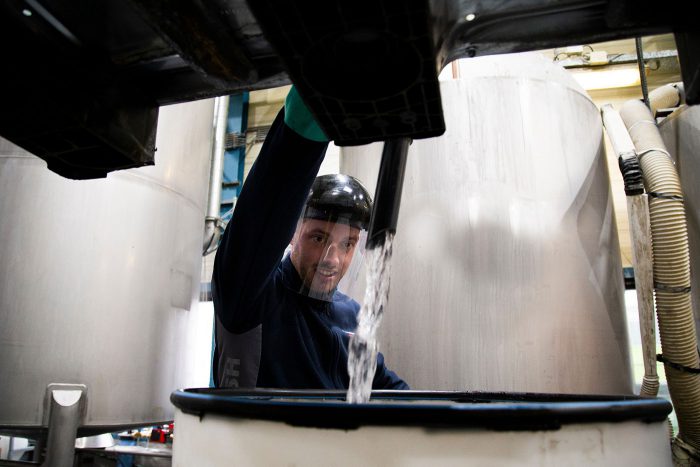 "You need to know what you are doing. You work with hazardous substances."
What is the best advice you can give as a production manager?
"If you are facing major challenges, just keep thinking. If you think you are very busy, take a step back and look at the situation again. Usually it is not that bad."
What do you really like about Cartec

?

"Cartec is a relatively small company with great deeds. When I see what we produce in kilos… that's really something to be proud of. But also that we are at the beginning of the supply chain."
What are you most proud of?
"It is incredible what we can achieve operationally. When I see all the trucks filled with Cartec products at the end of the week, it makes me proud."
What is your biggest dream?
"That everyone in the world uses Cartec! We already operate in many countries, but I think it would be great if you can buy Cartec products anywhere in the world."