The Cartec team is one big family, so there's always something to tell. In the section 'people' we interview a colleague about his or her work, but also about dreams, trends and what we just always wanted to know about them. This time we talk to Erwin Krijt, carwash expert at Cartec.
On a summer's day, which was far too hot, I spoke to Erwin in a wonderfully cool office in Benthuizen. Erwin had been driving for 1.5 hours, because he came from far away in Deventer.

Car wash installation and technical advice
That's where our new Technical Product Specialist lives with his wife, two daughters and golden retriever Sadie. Erwin explains what he has been doing at Cartec for the past 2.5 months: "I adjust carwashes, rollovers and wash bays perfectly for our customers. I also like to give advice with my years of experience to make carwashes even better." Chain conveyors in particular sometimes give rise to technical problems. And that is where Erwin comes to the rescue.
His work involves consulting, converting carwashes to Cartec Royal Care products and troubleshooting. "Most of the challenges I encounter come from water recycling and from improper water pressure in a machine."
Cartec products in the carwash
Erwin also gives advice on how clients can use Cartec products optimally. "The other day I was at a car wash where they pre-cleaned the cars with Royal Wheel instead of Royal Forte. Cars came out with stains on the license plates. Now they only use the Wheel Cleaner for the rims. For the rest of the car, they now put in the Royal Insect."

Experience in the carwash
Where did Erwin gain all that knowledge? "At a car wash in the most beautiful city in the Netherlands, Deventer." For eleven years now he has been working in the car wash world, a considerable time of which at a forty-five meter chain conveyor. I marvel, but he makes it even better: "Nowadays you see them of seventy meters."
He progressed from assistant to branch manager. In this way he has seen all sides of a car wash. "From working at the cash register and pre-washing to climbing into the pit if something was broken." He developed and gathered more and more technical knowledge. "Ninety-nine percent of the technical problems I solved. In fact, that went so well that they asked me to do that in other branches as well."
Apply for a job at Cartec
He had heard of Cartec before. In fact, he had even worked with it. "A long time ago we cleaned interiors at that car wash for a short time. We did this for too high a price, so we stopped doing it. During that time, I got to know Cartec products. Among others, the Dash Fresh, Interior Cleaner and Glass Cleaner."
So when a few months back a former colleague forwarded Cartec's vacancy, Erwin didn't hesitate and applied immediately.
"I was warmly received. The atmosphere is cozy and friendly. There is a club feeling here and I experience that we all do it together."

Switching to another chemistry supplier
Erwin has now tuned about twenty carwashes for Cartec. If he has time, he visits new carwashes. Carwashes don't readily switch to other chemicals. And he knows why: "They are often attached to their supplier. There must be something really wrong before they start testing with other products. Taking the plunge and not knowing what quality you're getting back is stressful for customers."
Just this year, his goal is to start adding Royal Care to one or two beautiful modern car washes.
Test various car wash products
Speaking of which, our car wash expert wants to share another tip: "If you are a car wash owner who wants to switch suppliers, test different products and suppliers to see the difference." He comes across as confident, and he says with a laugh, "I dare you to take on that battle. Test with several products. Then you'll see that Cartec will come out of your test really good."

Wasstraat upgraden met een lavaboog en extra wax
About creating more of an experience in a car wash, Erwin likes to think along with customers. "Make sure you have a clean car wash anyway, that works fine and attracts customers." For example, he advises carwashes to upgrade with a lava arch, extra wax and beautiful lights. "Then customers really get and experience more for their money and you give your car wash a real upgrade."
He himself also gets a lot out of the experience, as he drives through a car wash about two to three times a week. "That's to test how the products are set. And so I always drive a clean car."
Refinish and Ceramic Guard training
Erwin also has his favourite product. "The Royal Guard is really a top product. It gives a nice shine and a good foam experience. Besides carwash products, we have many other car care products. I recently followed the Refinish and the Ceramic Guard training courses. The quality struck me immediately. The products are very easy to apply. Everything has been well thought out."

Fast Glaze and Perfect Polish for the motorbike
He likes to use Fast Glaze and Perfect Polish for his motorbike. "In my spare time, I work on my bike. I rebuild it just the way I want it. Now I want to buy a bigger one so my girls can get on the back too."
His surroundings also benefit from him working at Cartec. "I once visited a friend with a bike that had chromed rims. He couldn't get them clean. I sprayed Iron Wash on them and hosed it off. He looked at it and said, 'How do you do that? I'm polishing that for a day!' Yes, you have to use the right products,' was my answer."
He also tested the Splash Shampoo on his bike. And it has improved the roofing as well.
"I like to work with a good product. And we have that here."
Chemical knowledge
The variety of the work is what makes Erwin tick. He enjoys everything from giving advice to setting up the equipment. "I enjoy giving the guys who work in the car washes a few tips and tricks. For example, I check all the nozzles once a day to see if they are spraying properly." The deeper subject matter of chemistry also appeals to him. "Knowing why an arc does not foam and why the water pressure drops. I find the technical aspect very interesting."

Water pressure problems
Our new recruit is a real go-getter. "I want to adjust a car wash as perfectly as possible and I'll go on until it's right." He gives an example: "A customer had a water pressure problem on his rollover. One side was spraying better than the other. If the supply is on the left side, it could spray a little less on the right. That means that not enough water pressure can be built up in the pipe." So Erwin is going to help the customer by ordering nozzles with more reach. That will cover the whole car with less water.
Authentic Dutch quality
The fact that Cartec is Dutch and everything is developed and produced in Benthuizen makes it unique. "The quality is high and we work on it constantly. Of course, quality checks are carried out regularly," says Erwin proudly.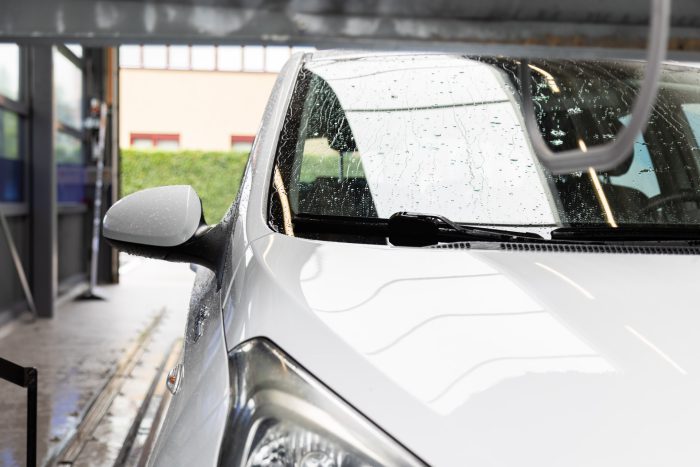 Colleagues at Cartec
I ask him what his new colleagues should know about him and he says; "I am honest and say what I think. And just act normal, then you're already crazy enough." And suddenly we notice a cultural difference here. He calls himself a down-to-earth farmer and me a Westerner. Very nice, that multi culture at Cartec.
Royal Care in ten years time
In ten years' time, he hopes to have won a larger share of the carwash market. Even to the point where he can no longer handle the work alone. "I would also like to develop more knowledge about the content of chemistry. And touring Scotland on a motorbike is on my bucket list."
After our conversation, Erwin will be on the road again to help and conquer the market with Cartec Royal Care. Have you met him yet?