Retail & do-it-yourself
Cleaning the car interior with the Essentials
13-12-2022
In the Netherlands, we spend around 13,000 km a year driving our car*. If you spend a lot of time in a space, it is nice that that space is clean and well cared for. In this Insight, you will read how to clean and care for your car interior with Cartec Essentials products. That way, you'll spend those 13,000 km a little nicer!
*Source: Autorai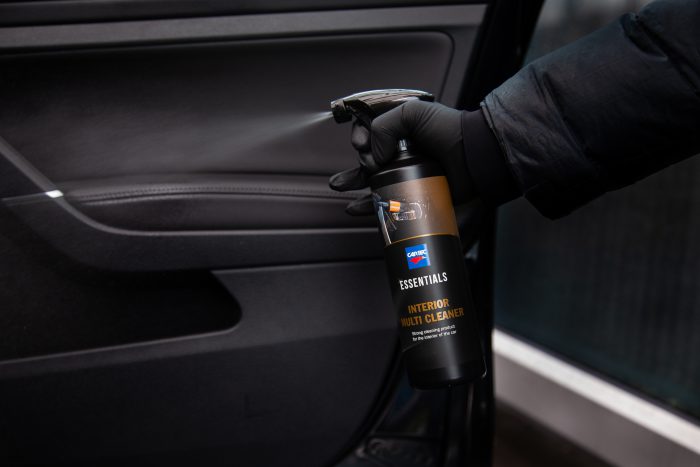 Cleaning the car interior with an interior cleaner
First of all, it is good to clean everything in the interior properly. With Interior Multi Cleaner, you can easily clean the entire interior. It effortlessly removes stains like oil, grease and strong dirt from the interior. This product is suitable for seat upholstery, dashboard, console, door panels and leather cleaning. Spray the product on the surface and leave for 1 to 2 minutes. After this, wipe with a clean cloth and remove remaining dirt with water and a cloth. For deep cleaning, use Interior Multi Cleaner in combination with a wet & dry vacuum cleaner. Interior Multi Cleaner leaves no residue and spreads a pleasant scent throughout the vehicle.

Cleaning the car interior with a glass cleaner
Glass Clean & Shine is a good cleaner for car windows, suitable for the inside and outside of windows. Glass Clean & Shine quickly and effectively removes insect remains or sticker residue from, for example, a (toll) vignette. Nicotine can leave a yellow deposit on windows. This yellow deposit is somewhat greasy, Glass Clean & Shine removes nicotine deposits spray the Glass Clean & Shine on the dirty window and let it soak in for a few seconds, then rub it to shine with a clean cloth. Glass Clean & Shine provides a streak-free result and a deep shine.
Foggy car windows?
Regularly cleaning car windows is not only good for visibility, but also helps against fogged-up windows. Glass Clean & Shine removes the deposits that promote condensation.
Car interior care
After cleaning the interior, protection is important. In the insight 'car interior care and protection' you will read how to do this.