Cleaning & Maintenance
Engine cleaning and maintenance
Cleaning the car's engine compartment is important but often forgotten. A clean engine compartment not only enhances its appearance, but also helps maintain the performance and longevity of the engine. In this insight, we explain how to clean and care for the engine bay using Cartec Engine Cleaner MV40 and Cartec Motor Fresh.

Steps of cleaning the engine bay
Preferably, clean the engine after pre-cleaning the car and before you start washing and polishing the exterior because of the spray that may get on the paint or windscreen during application.
Before you start, there are a few things to keep in mind. Make sure the engine is switched off and cooled down. Cover sensitive parts, such as electrical components, with plastic bags or foil.
Important: Always read the instructions and safety guidelines on the packaging before using the products on the engine compartment.
Use Cartec Engine Cleaner MV40 to clean the engine bay. This is a powerful degreaser specially designed for cleaning the engine unit. Follow these steps: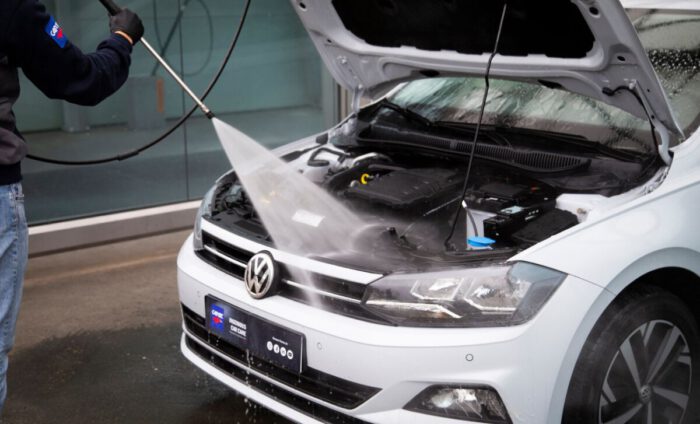 Step 1 – Clean with Cartec Engine Cleaner MV40
Follow the following steps to clean the engine bay:
Spray the Cartec Engine Cleaner MV40 evenly over the engine compartment. Make sure all parts have been hit, for example also the inside of the bonnet.

Let the MV40 soak in for a while to allow the dirt to loosen.  

 

Use a Detailing Brush to loosen stubborn dirt.
Rinse the engine bay thoroughly with water. Until all residues of the cleaner are removed.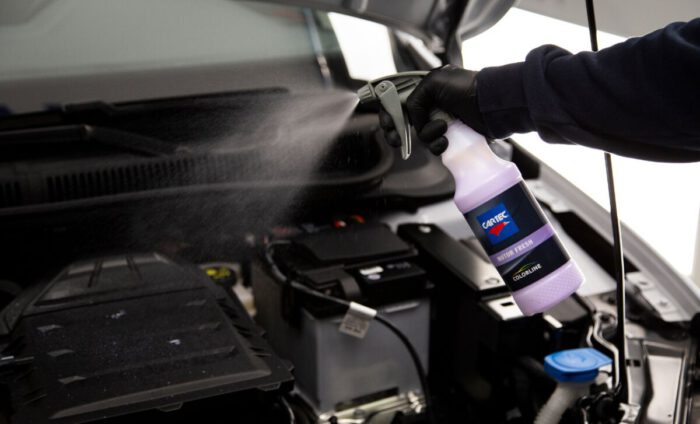 Step 2 – Maintain the engine with Cartec Motor Fresh
After cleaning the engine bay, you can use Cartec Motor Fresh to care for the engine. This product protects and renews rubber and plastic parts. Make sure the engine compartment is clean and let it dry as much as possible.
Spray Cartec Motor Fresh on all parts of the engine using a pressure pump or sprayer.
Cartec Motor Fresh spreads itself and doesn't need to be rubbed out.
Close the bonnet depending on ambient temperature and let the product dry for 20 to 30 minutes.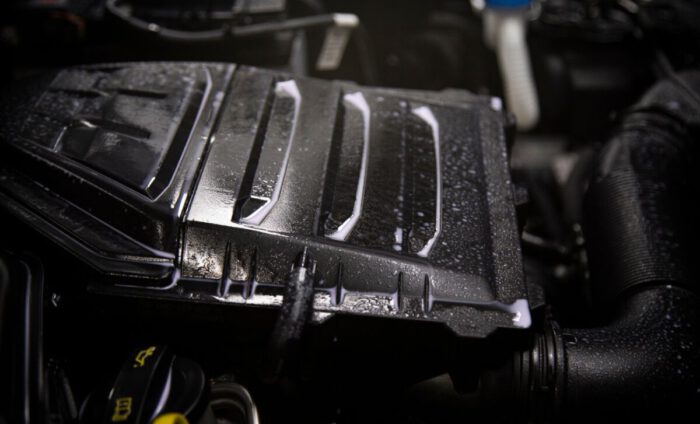 If you follow these steps, the engine bay will look like new again. Take good care of the engine with Cartec Engine Cleaner MV40 and Cartec Motor Fresh – the perfect combination for a well-cleaned and cared for engine bay!  
Want to know more about Colorline products? Have a look at all Colorline products at the Cleaning & Maintenance page.