Durable paint protection
Make the Difference with Ceramic Guard
Ceramic coatings. You must have heard of it by now. This type of paint protection has become very popular among detailers and car cleaners the last few years. And the popularity is still rising.
Car lovers all over the world want to give their car attention. They want to give their car the best possible protection against contamination and they want to be able to easily clean their car. Adding a ceramic coating to your company's arsenal can boost your detailing/car cleaning business and can help fulfil the needs of your customer.
To give detailers/car cleaners this possibility, Cartec developed Ceramic Guard. Let's dive deeper into the benefits of this product.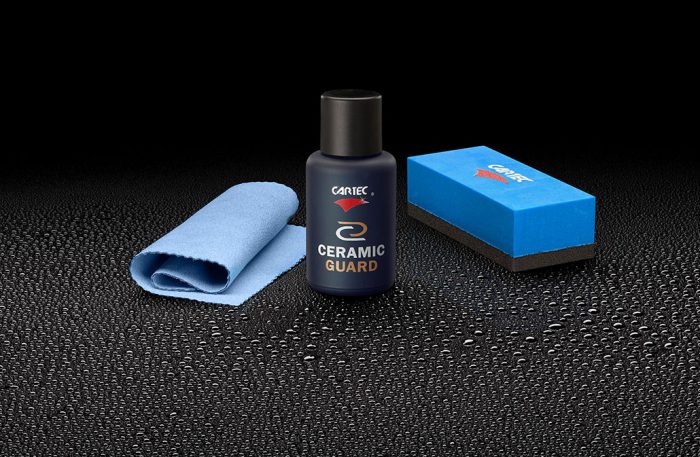 SiCarbon+ Coating
All right, this part can get a bit technical. But to show the main benefit of the Ceramic Guard, it's important to explain how this coating is made.
Many coatings are developed using the silicon oxide molecule (SiO2). With Ceramic Guard, the oxide has been replaced by carbon (SiC). The difference is that with SiO2, 30% of the layer disappears during the curing process, while SiCarbon+ has a maximum loss of only 5%. The carbon can bond itself between the silicon, so that the Ceramic Guard ultimately maintains a higher density than with SiO2.
So why is that important? Well, this change in molecules has resulted in better scratch resistance and longer protection. It was the birth of Ceramic Guard SiCarbon+ Coating.
Want to know how to apply Ceramic Guard? Check out this video:
The testing process
Ceramic Guard SiCarbon+ was not made in a day. It took the R&D department of Cartec a few years to develop it. The coating needed testing in all kinds of weather conditions so that means it went from the cold winters of Finland, to the hot dessert of Dubai. All to get the best testing results and to make sure that the coating would give what customers are looking for: permanent protection for their car.
Ceramic Guard 4life
To be able to give customers the guarantee that the car gets a permanent protection, Cartec developed the Ceramic Guard 4life concept. The standard guarantee of Ceramic Guard is three years. But with the Ceramic Guard 4life service, after these three years customers can go back each year to their specialist to get an inspection of the coating. When the coating needs to be boosted specialists can use the Ceramic Guard Xtender. This product is made of nano technology which fills up damaged parts of the original coating layer. In this way, the quality of the coating increases year after year.
Specialists Network
Ceramic Guard is developed by specialists, and created for specialists. This means not every detailing or car care business can simply carry out Ceramic Guard treatments. However, everyone can learn how to do it and eventually become a trained specialist. Cartec has a worldwide network of trained specialists who know how to carry out a Ceramic Guard treatment well.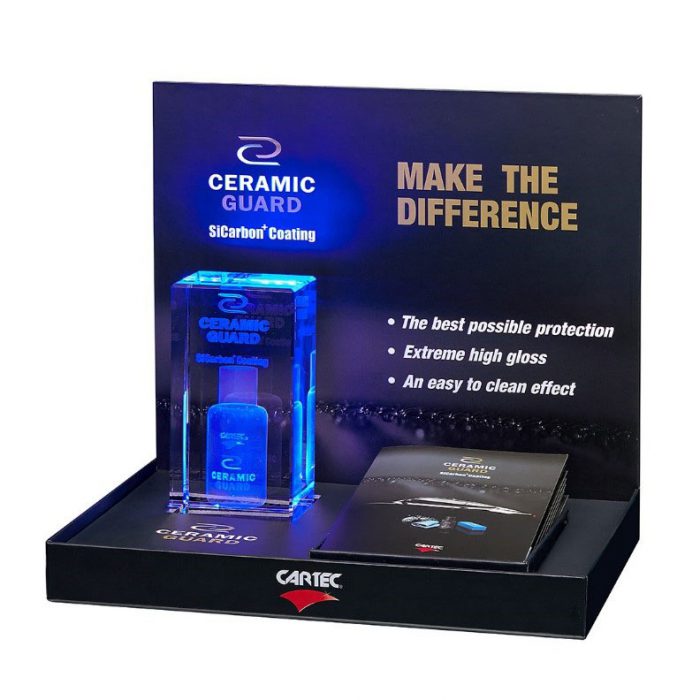 A Ceramic Guard Counter Display for trained specialists.
Become a Specialist
With Ceramic Guard both the specialist and customer can make the difference. As the trained specialist upgrade his or her offer, the customer rides a car which has the best possible protection, extreme high gloss and an easy to clean effect.
The family of Ceramic Guard specialists is growing. If you have a car cleaning / detailing business and looking for the opportunities of becoming a trained specialist, then fill in the form here: https://ceramicguard.com/for-professionals.
Want to see the hydrophobic effect of Ceramic Guard? Check out this video: