The advantage of a foam pad
Cartec has a large range of polishing pads. From foam pads to wool pads. The most frequently used pad for polishing the paintwork is the foam pad. Cartec has many types and sizes of these in its range. How do you choose the right pad? We help you on your way in this 'Insight'...
What is a foampad?
The foam pad is a polishing pad with an open structure. The pads of Cartec are reticulated, this is an extra step during the manufacturing of the pad. Gas is injected into the foam and this is then detonated. This causes the cells to burst open and the structure of the cells to change. This improves the result. The advantages of this are
The polishing paste is absorbed and distributed more evenly over the pad
Less heat is generated during polishing
The pad is easier to clean
Which polishing pad should I use?
The foam pads in the Cartec range are selected for the Refinish polishing pastes. These pads support the working of the pastes. The polishing pads are made in the colour of the corresponding Refinish bottle, so that it is recognizable which pad and paste belong together.
The green polishing pad 
In combination with the Diamond Cut 3000, the effect of this polishing sponge is sublime. The pad has a coarse structure. This is ideal for polishing paint surfaces with (deep) scratches. Due to the extremely deep polishing effect, this combination effortlessly removes deep (sanding) scratches, spray mist, orange peel, dust and runners.

The yellow polishing pad
This polishing pad was specially developed for the combination with Compound 5000. The end result of this is excellent. It is a medium-sized polishing pad/polishing sponge that is ideal for removing paintwork problems such as spray marks and orange peel.

The white polishing pad 
This pad in combination with the Final Cut 9000 ensures a brilliant result. It is a medium polishing pad, which can be used for light polishing and bringing shine to paint surfaces. The combination easily removes holograms and small scratches from paintwork.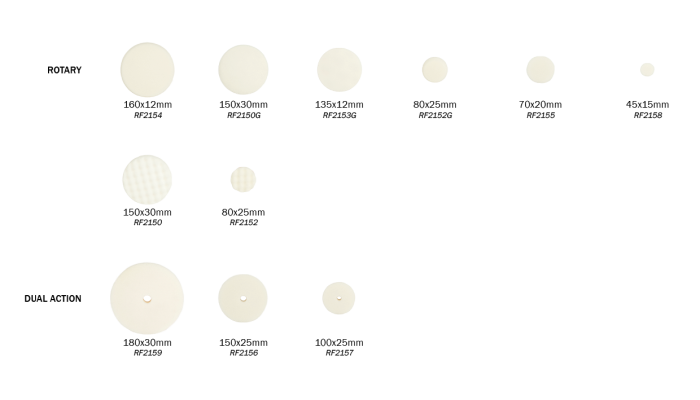 The grey polishing pad
This polishing pad in combination with the Ultra Finish 12000 ensures a beautiful end result. It is a very soft pad, which ensures a completely hologram-free paint surface with a high gloss. This gives a beautiful end result.

Which size polishing pad?
The right polishing pad is chosen depending on the size of the surface to be polished and the size of the polishing pad holder. Smaller polishing pads have been developed for spots that are difficult to reach, such as mirror caps. These can be used in combination with a smaller polishing machine, like the Flex PXE 80. The above-mentioned properties per pad also apply here.
Read more about the different types of polishing pads in 'Woolpad, foam pad, microfibre pad. When to use which polish pad?