How do you clean car upholstery?
Nothing in a car catches the eye more than clean car upholstery. Unfortunately, car upholstery can get messy very easily. As careful as you may try to be in your car, there's a good chance you're going to experience a food or drink spill at some time or another. Also wet clothing and body dirt leaves a mark on and in the upholstery. How do you get rid of those stains?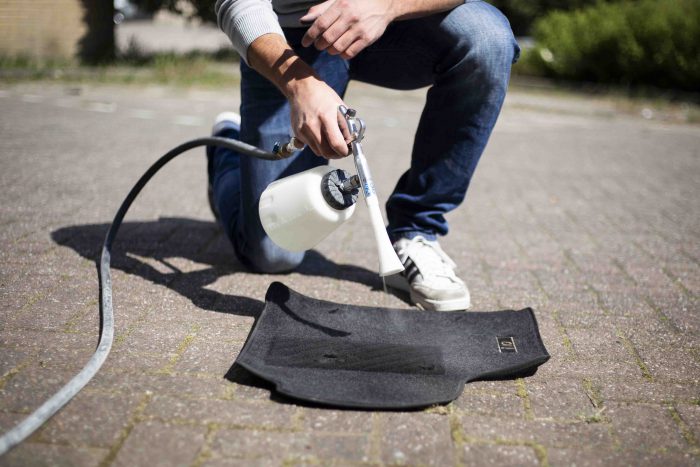 What different types of pollution are there?
In order to properly clean the upholstery, it is important to know what types of pollution you're dealing with.
Loose contamination
This contamination cannot adhere to the fibers and is therefore loose, between or on the fibers. Examples are sand, dust and hair. You can remove it quite easily with a good (powerful) vacuum cleaner.
Fixed pollution
This pollution builds up over time and can adhere to the fibers of the upholstery. For example accumulated skin fat or denim jeans that rub off on the upholstery. This contamination cannot be removed with a vacuum cleaner and requires an effective cleaner.
Stains
This pollution may be caused by rainwater that ends up in the car or coffee that falls over. This pollution is usually deep in the fibers, making the stains difficult to remove. This contamination cannot be removed with a vacuum cleaner either and requires a special cleaner.
Which cleaner should I use?
The next question is of course: which cleaner should I use? A different cleaner is required for each type of surface or contamination. This is also the case for car upholstery. Cartec has three cleaning agents that can be used to clean the upholstery.
Cartec All Purpose Cleaner
Cartec Interior Cleaner
Cartec Textile Cleaner
Cartec All Purpose Cleaner is a strong degreasing cleaner that is suitable for almost any surface. This can be used for both interior and exterior. However, the pH value of the All Purpose Cleaner is quite high, making it a fairly aggressive cleaner for the interior.
In addition, there is a risk of white residue if All Purpose Cleaner is not properly removed or rinsed. For this reason, this product is less suitable for upholstery and interior.
That is why the Cartec Interior Cleaner has been developed: a powerful cleaner that, like the All Purpose Cleaner, has strong cleaning properties. This product is less aggressive and due to the special composition, the Interior Cleaner does not leave white spots in the interior. In combination with the Tornador Gun, this is a very pleasing product to quickly and effectively clean the entire interior.
The Cartec Textile Cleaner is the most suitable cleaner if you have extremely dirty seats or deep stains in your upholstery. It is highly concentrated and specially developed to remove (deep) stains from upholstery. The cleaner penetrates deep into the fibers and effortlessly removes oil, (skin) fat, nicotine deposits and other stains.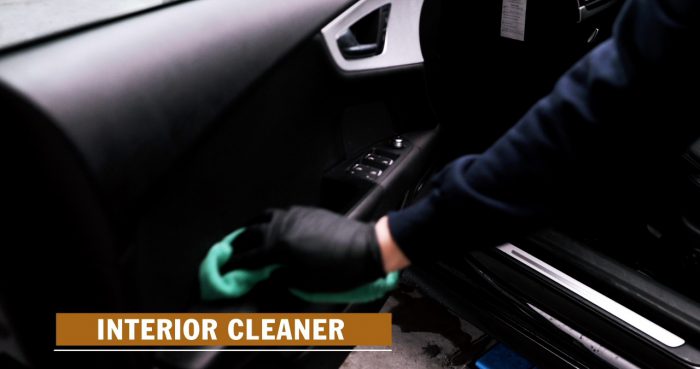 What is a polymer?
In addition to the cleaning resources, a polymer is added to the Textile Cleaner. Polymer is a commonly used term, but it is unclear to many people what it exactly means. Polymer means that after a treatment, a small layer will remain on the surface. There are many types of polymers. For example a hydrophobic (water-repellent) layer after washing, a hydrophilic (water-loving) layer for an anti-fog effect, an oleophobic (oil-repellent) layer to repel oil or an anti-static layer that makes sure no dust is attracted after cleaning.
A polymer is also added to the Textile Cleaner, which leaves a thin layer after cleaning the fibers, which makes the fibers smoother. As a result, the fibers stick less together and they will stand up nicely. In addition, the thin layer helps to remove loose dirt from the upholstery, making the cleaning process go faster.

How do you remove light pollution?
If the upholstery is slightly dirty, a good vacuum cleaning might be sufficient. Use the correct attachment to reach every part of the cover and pleats. If there is a light pollution that you cannot remove with vacuuming, you could choose to clean it with a Tornador Gun. This device operates on air pressure. The cup of the Tornador Gun contains a small, rotating tube that gives a tornado effect. You can also add the Interior Cleaner to the airflow with this gun. In this way, the dirt is "loosened up". This helps removing light pollution quickly.
How do you remove fixed pollution?
Stubborn stains or dirt must be removed by deep cleaning. Deep cleaning means that you have to go deeper into the car upholstery. You can do this with an extraction machine such as the Numatic CT-370. If you use such a machine, put a fine spray of a cleaning agent on the upholstery beforehand. Then brush the upholstery with a upholstery brush or microfibre glove, this loosens the pollution. Finally, spray warm water on the coating with the extraction machine, which is immediately sucked up by the machine. In this way you rinse and vacuum the pollution, and you're left with clean upholstery.
If you're deep cleaning upholstery, make sure the entire chair is wet. If you do this only partly, water circles and stains can arise. This is because the part that has not got wet attracts water through the dry threads in the cover. You'll end up with a separation of wet and dry areas. Cleaners and dirt will dry up on that spot and this will turn into water stains.
How can I remove dog hair?
It's a tricky job: removing hairs of a man's best friend from the upholstery of the car. With some upholstery this is very easy to remove, with others not so much. This is due to the type of hair and the type of fibers used in the upholstery. Cartec sells a lava stone and a dog hair brush for this. Both pull the hair out of the fibers. You can then easily vacuum the hair. Note that on some upholstery, the lava stone can damage the fibers. Therefore, first do a test in an inconspicuous area to see if this is the case. The dog hairbrush is most safe to use.
Read more about dog hair removal here: https://cartecworld.com/love-for-the-animal-love-for-the-car

How can I clean the headliner of a car?
Car headlining is usually light of color. This creates a spatial effect, but is therefore also very receptive to pollution and stains. How do you clean this without creating circles? The easiest way to do this is with the Tornador Gun in combination with Cartec Interior Cleaner. Make sure you always overlap strokes by half and don't do it too quickly. Be careful to evenly moisten the upholstery. This way the upholstery is free of stains and circles when it's dried up.
Do you have a specific problem with upholstery cleaning? Please contact us or send us an email. We'll take a close look at the problem together and find the best solution!