Cleaning & Maintenance
Love for the animal, love for the car
Many animal lovers like to take their favourite four-legged friend with them in the car for a nice day off. Great, but it isn't necessarily good for the interior. Hairs, unpleasant smells and stains are often the result. A big job for car care businesses. This blog is meant to share some tips & tricks to make the cleaning as effective as possible.

Removing dog hair
Removing dog hair can be difficult sometimes. Prickly little hairs stick to the seats and floor mats and are not easily removed with only a vacuum cleaner. For this you need a special brush or tool.
The quickest way is to clean it with a special dog hair brush or lava stone. Both are designed to remove dog hair (or from any other animal) quick and effectively. Use one of these to undo the seats and floor mats from hairs and hold the vacuum cleaner close to catch the little hairs that are falling off.
Removing stains
If a dog or cat is being transported by car without using a rug, changes are that stains will appear in the upholstery. Removing these stains shouldn't be too hard. For fabric upholstery you can use an interior cleaner in combination with a hard upholstery brush.
Use the following steps:
Spray the product on the upholstery.
Let it dwell for about one minute.
Scrub with the brush on the contaminated place.
Wipe off with a clean and soft towel.
Read more about all the cleaning products of Cartec.
Removing odours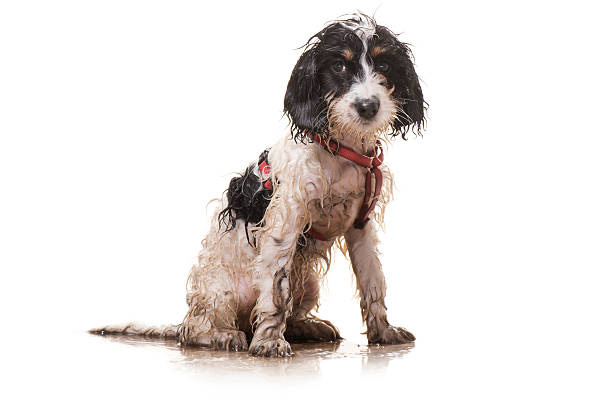 The smell of, for example, a wet dog can stick in the car for a long time. These are unpleasant smells which people want to get rid of. There is however a difference between improving bad smells and removing them. Improving a smell can be done with a car perfume. A car perfume doesn't remove bad odour particles, but adds nice ones which improves the smell. This is less effective in the long term.
More effective is to remove odour particles, which can be done with an ozone generator. With this machine odour particles are completely removed and unpleasant smells are gone.
The use of an ozone generator will take between 2-8 hours. This depends on which generator is used and the strength of the smell.
Get in contact with you Cartec dealer to get more information on all these products!