Colorline
Cartec supplies an extensive range of professional maintenance products for cleaning and enhancing the exterior and interior of cars. To be able to work faster and more effectively, a selection of the best products has been made, processed in a simple step system and a handy storage rack. Meet Colorline.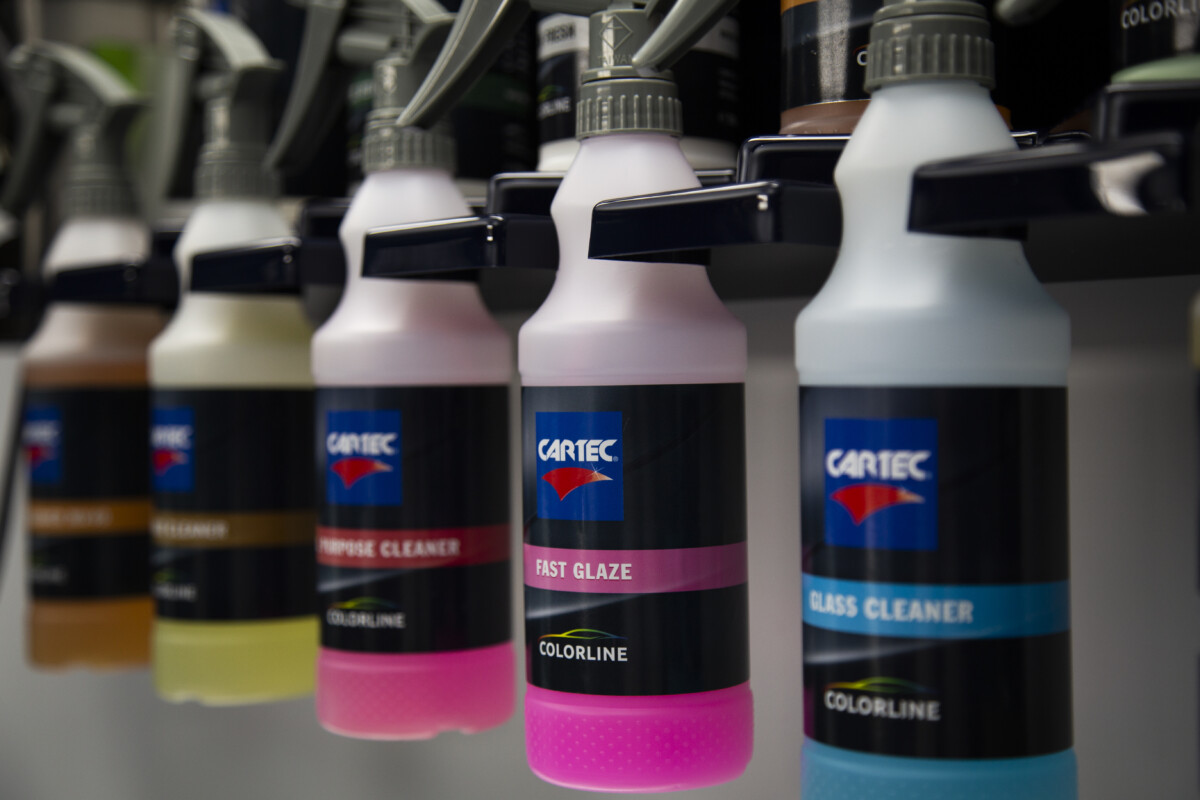 A selection of the
Colorline products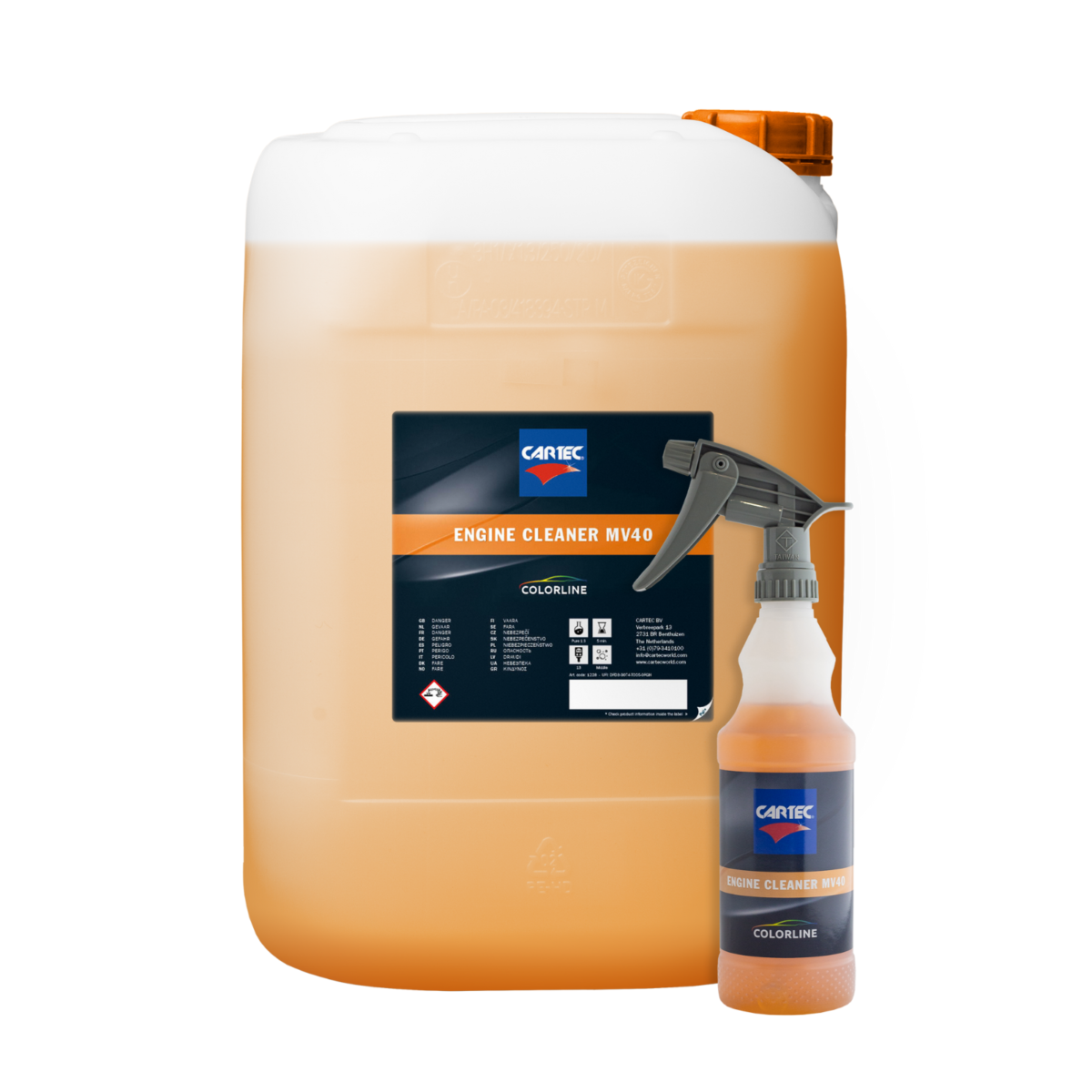 Engine Cleaner MV40
The most effective cleaner for the engine bay. This solvent free cleaner easily removes oil and grease residues.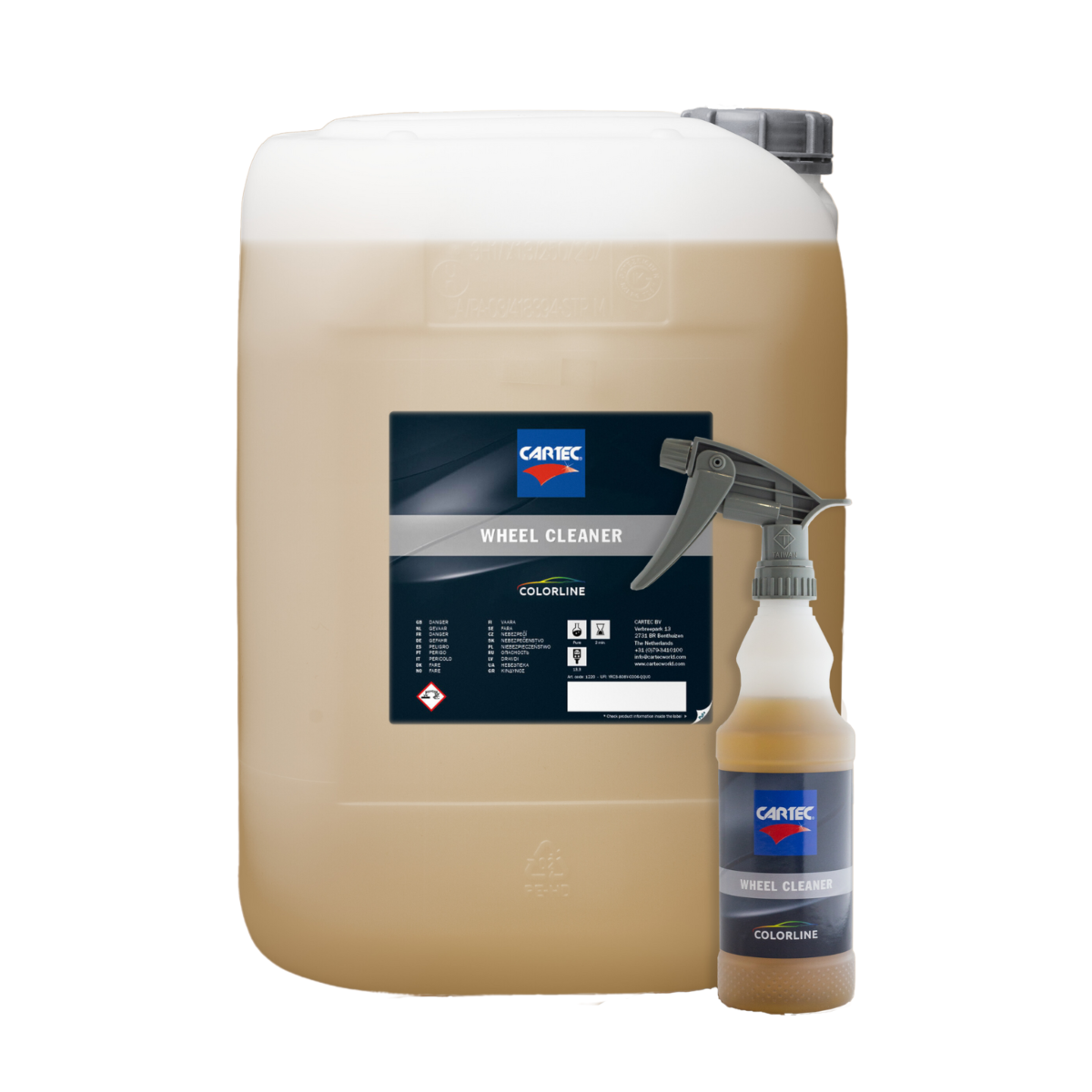 Wheel Cleaner (acid-free)
The acid-free Wheel Cleaner is the product to use for thorough cleaning of the rims & wheels. Stubborn brake dust from steel and aluminum wheels is quickly removed due to the strong cleaning power.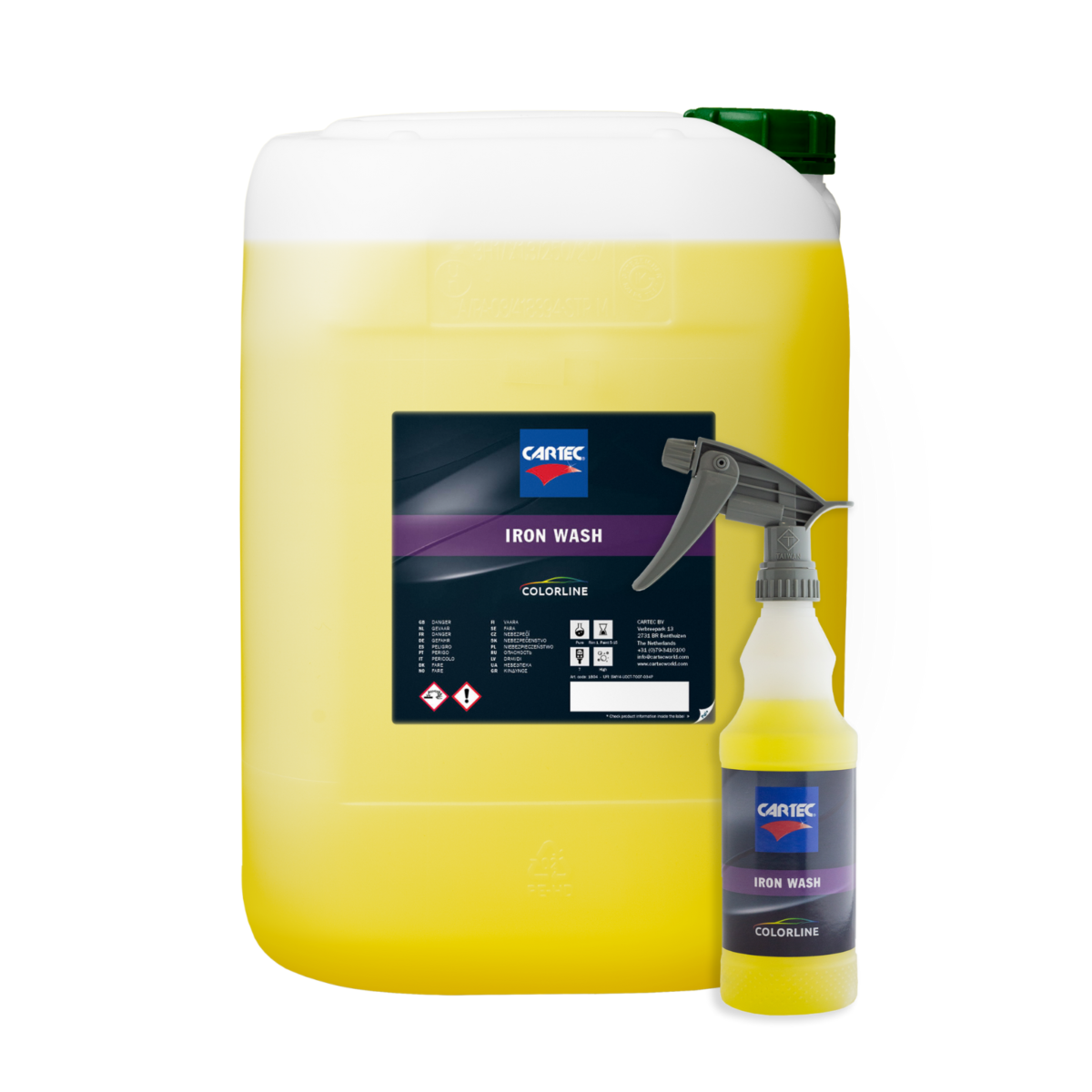 Iron Wash
An effective and acid-free cleaner for removing metal particles that are attached to the paint and wheels. Iron Wash reacts with these particles, creating a purple "bleeding" effect and dissolves the metal particles.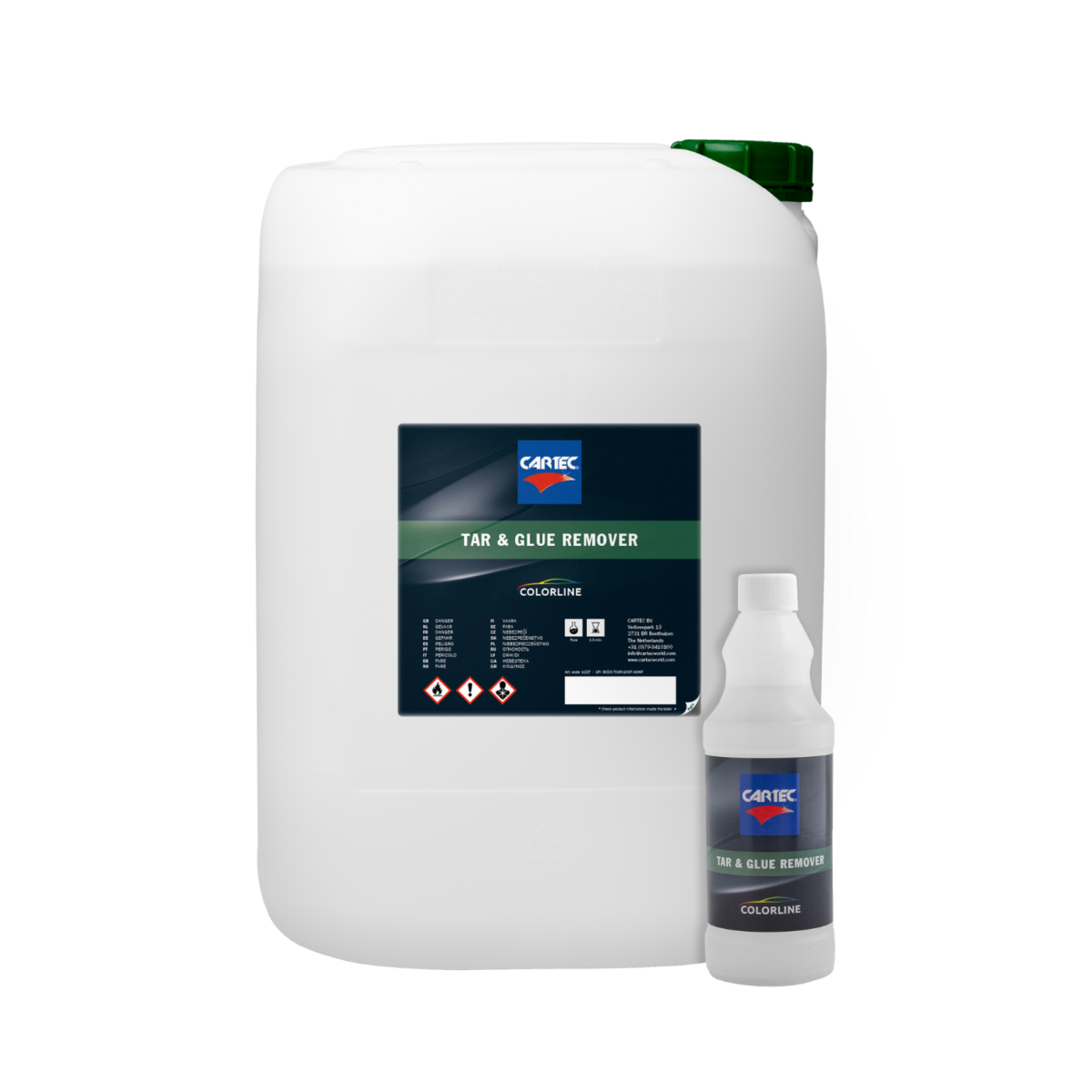 Tar & Glue Remover
Splashed tar and bitum residues that have attached to the car are quickly and easily removed with this specially designed product.
All Purpose Cleaner
This versatile cleaner can be used for many applications. Easily removes nicotine deposits, flies, tree resin, oil, grease and strong dirt.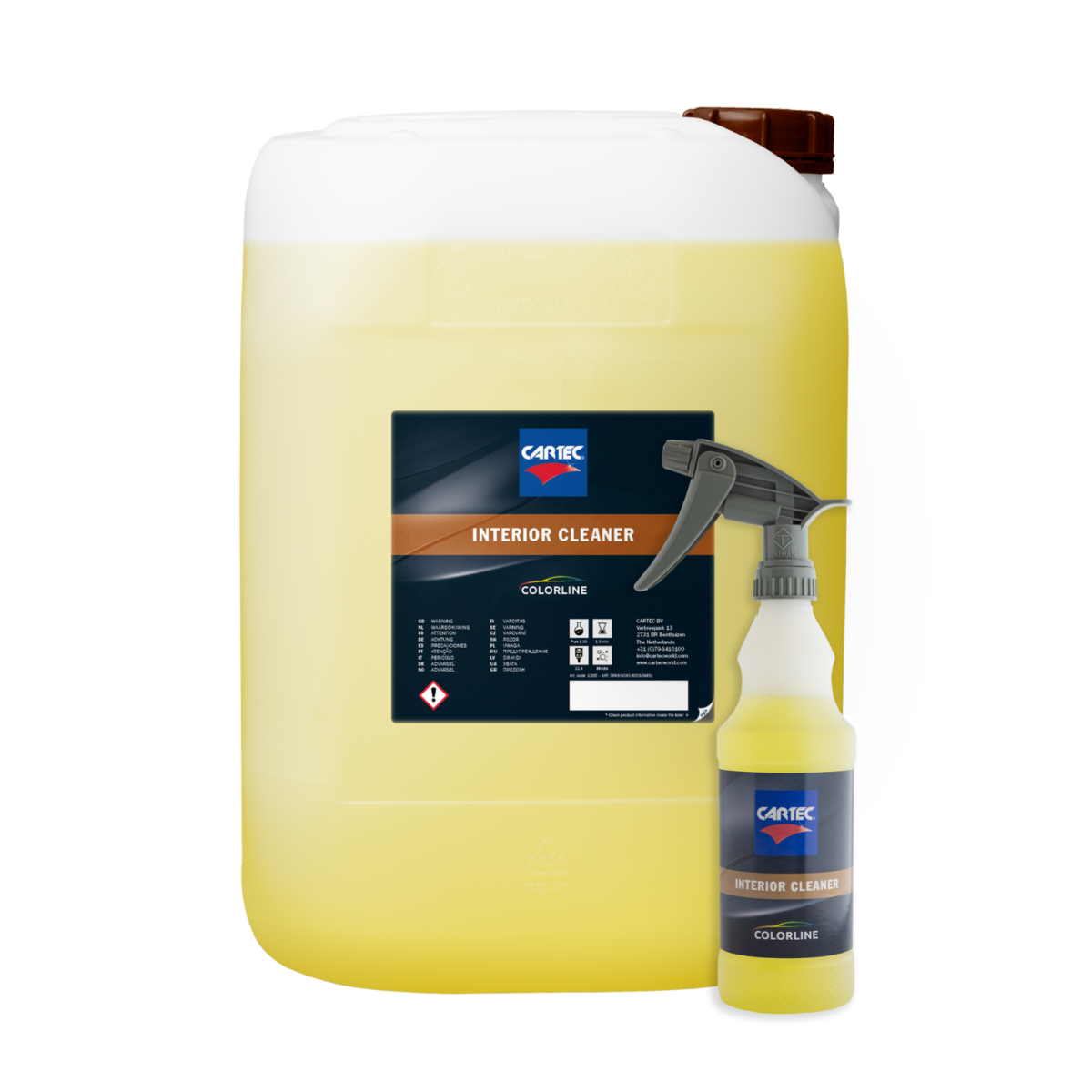 Interior Cleaner
Interior Cleaner is a highly concentrated cleaning product for the inside of the car. Strong contamination such as oil, nicotine deposits and grease are quickly removed with this product.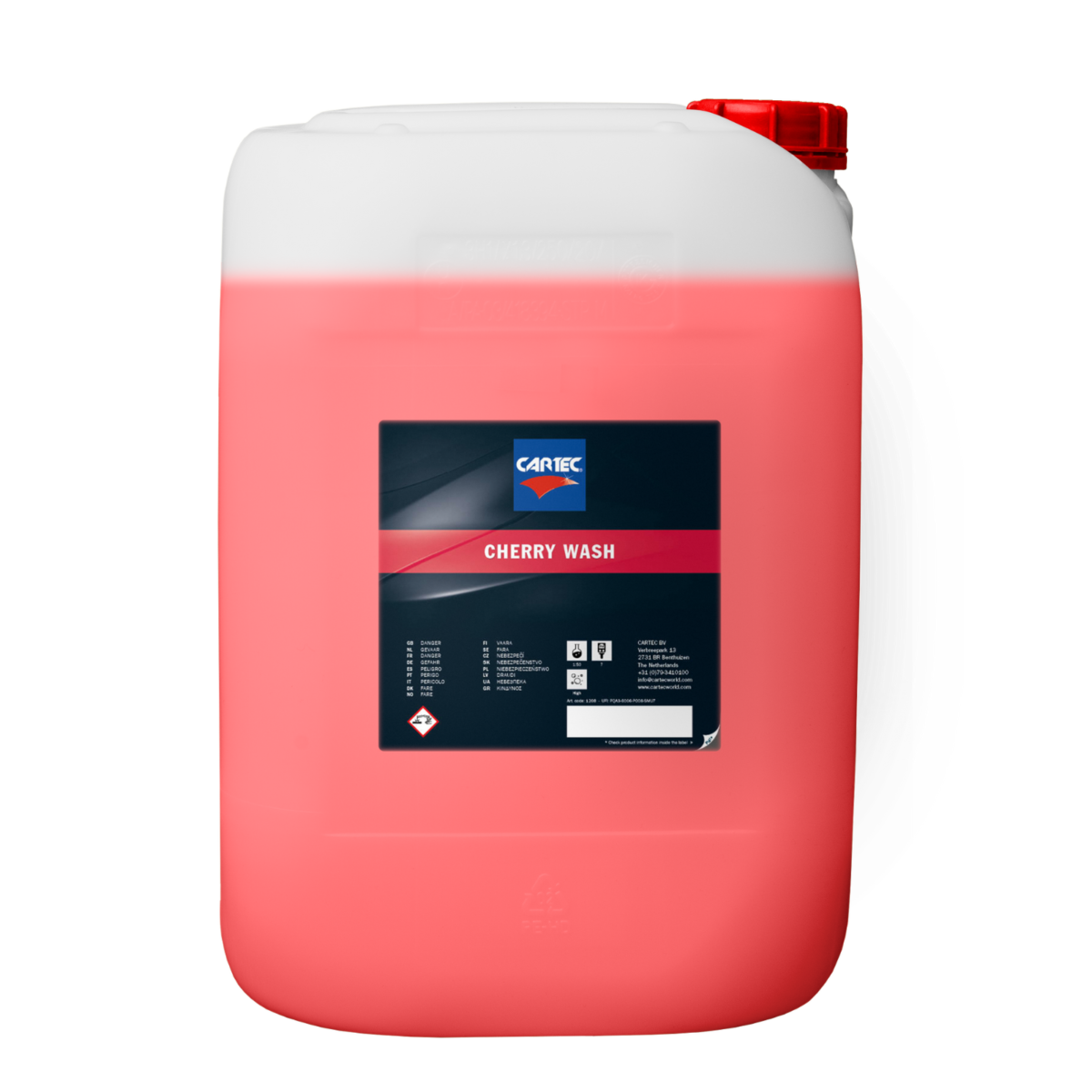 Cherry Wash
Cherry Wash is a high foaming and highly concentrated car shampoo. The high-quality wax active ingredients ensure very good cleaning and a stable foam effect. The shampoo spreads a fresh cherry scent during washing. Can be used in a bucket or applied with a foam lance.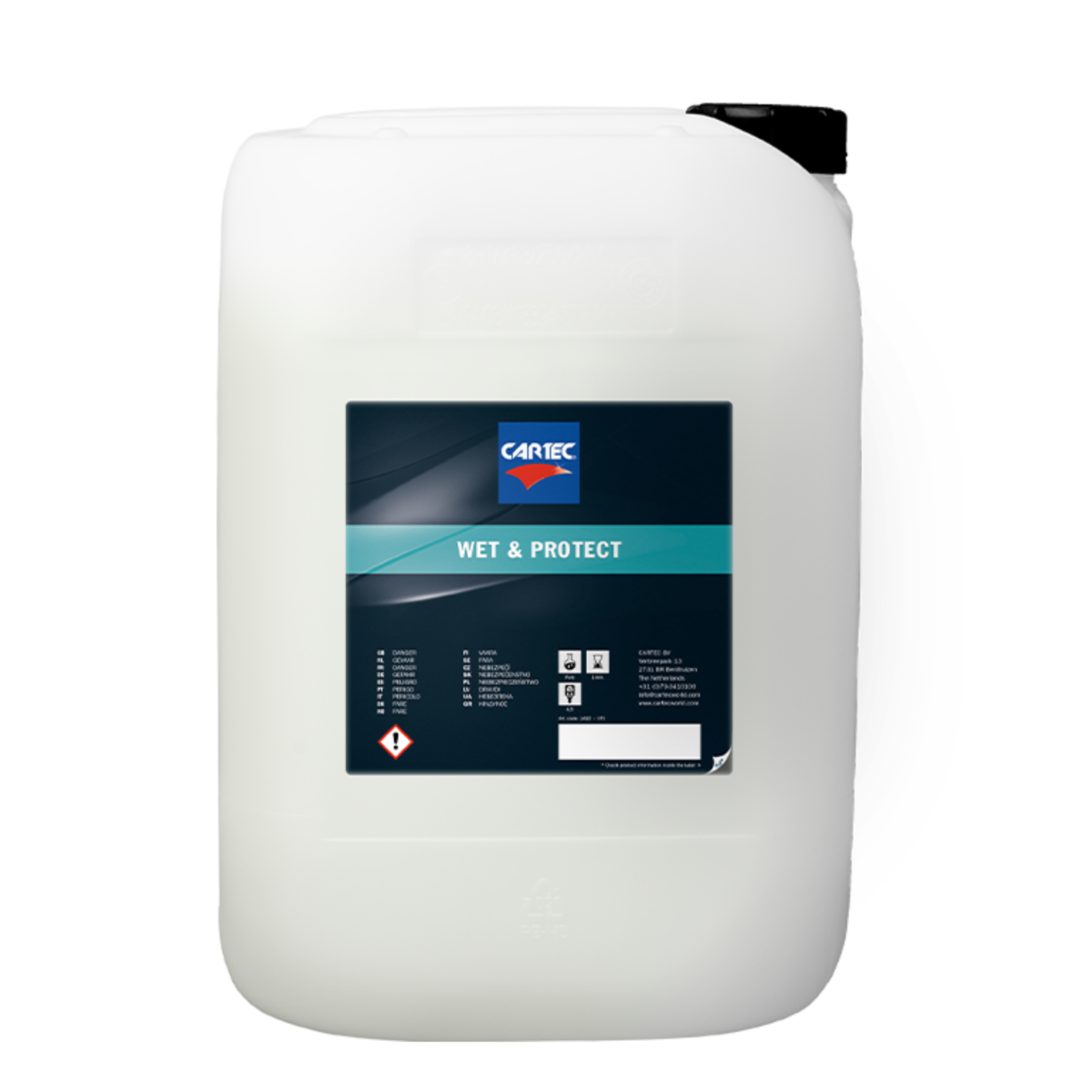 Wet & Protect
Cartec Wet & Protect is a "spray & rinse" coating that adheres strongly to the surface after the car has been washed and rinsed. By applying the product to a wet car, Cartec Wet & Protect will spread well and can adhere to the paintwork. It creates a very good protective coating, extra deep gloss and a strong water-repellent effect.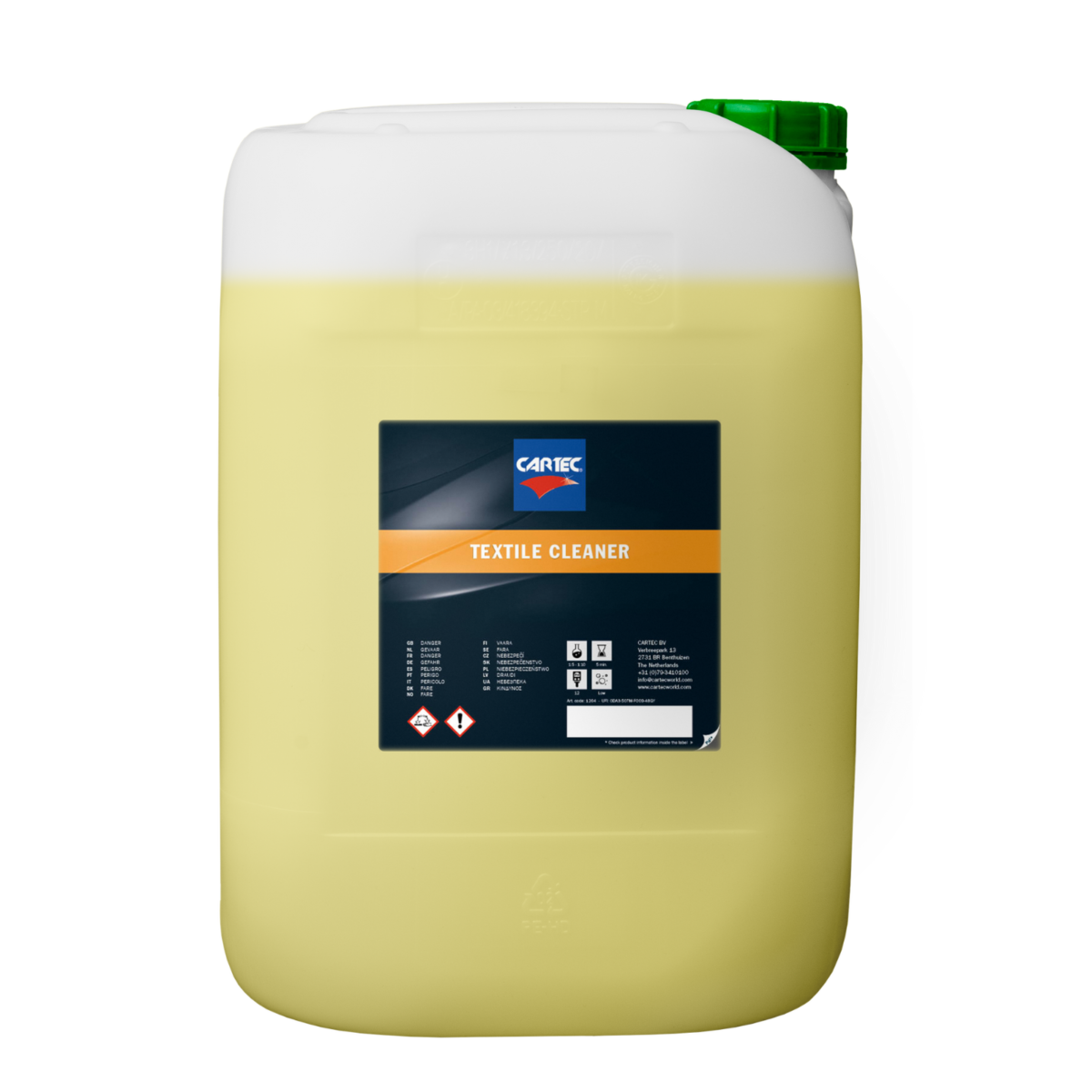 Textile Cleaner
Textile Cleaner is a highly concentrated cleaning product for textiles. It removes oil, grease, nicotine deposits and other strong dirt from car upholstery. Thanks to a special polymer, Textile Cleaner leaves behind a fibre-reinforcing protective layer. This makes the cleaned surface look like new again and stays clean longer.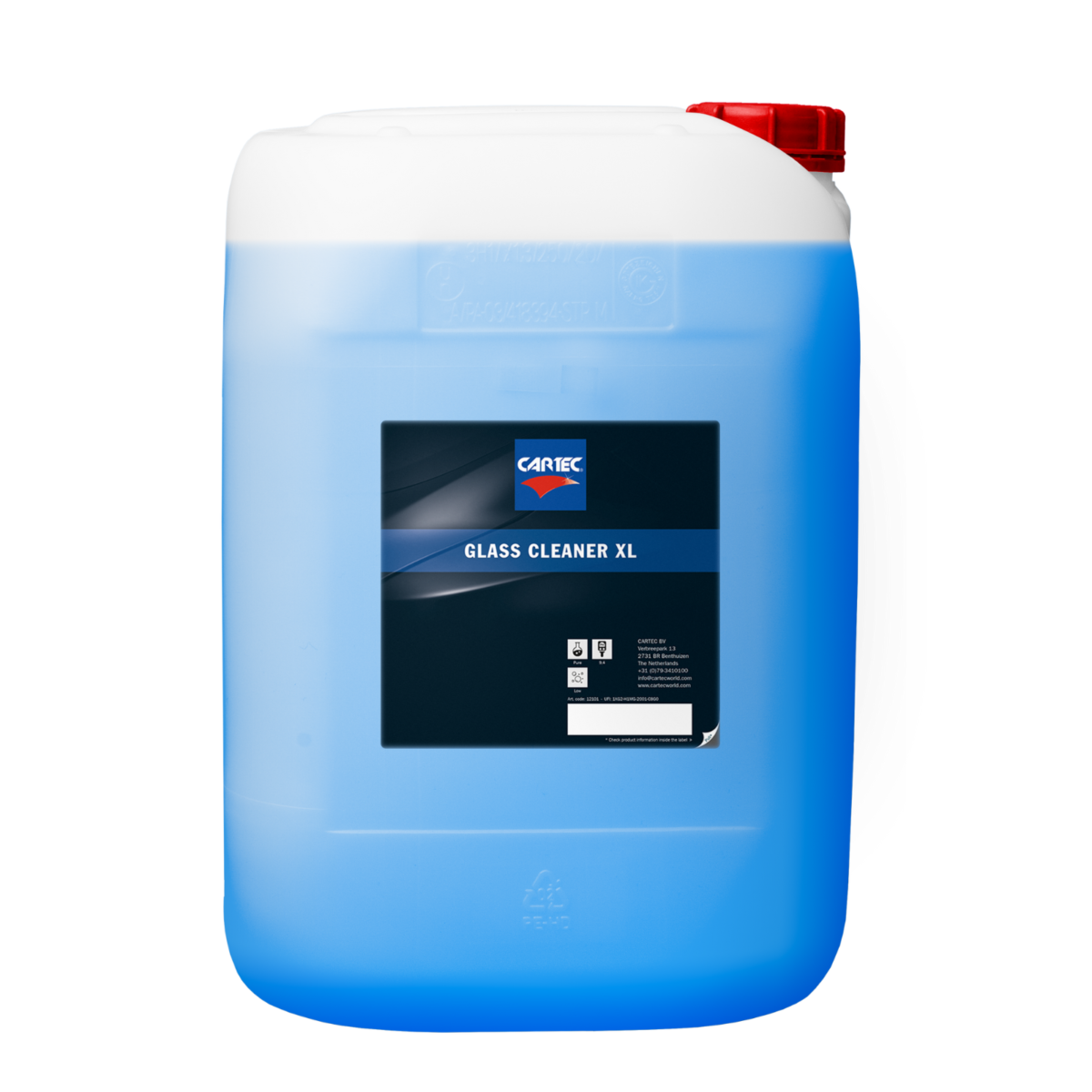 Textile Protector
Protect cleaned upholstery with Textile Protector against soiling and stains. Textile Protector protects against water-, grease- and oil-based soiling. Textile Protector improves gloss and colour and restores the water-repellent property of textiles. The product can also be applied to leather and convertible top.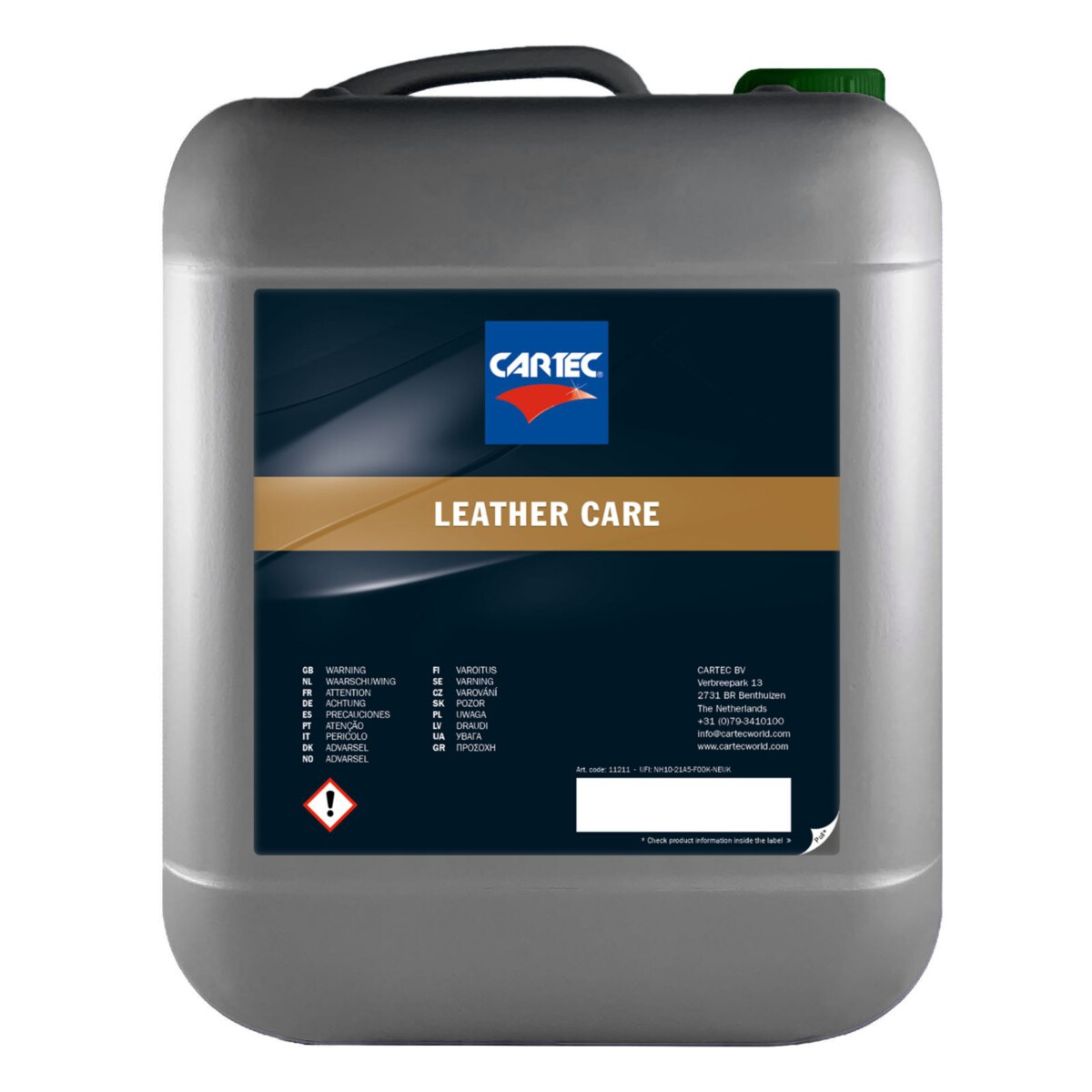 Leather Care
Leather Care cleans and protects leather. Restores the satin aspect of original leather. The leather regains its original shine and flexibility after treatment with this product. Can be used on all types of leather. Gives the interior a pleasant scent.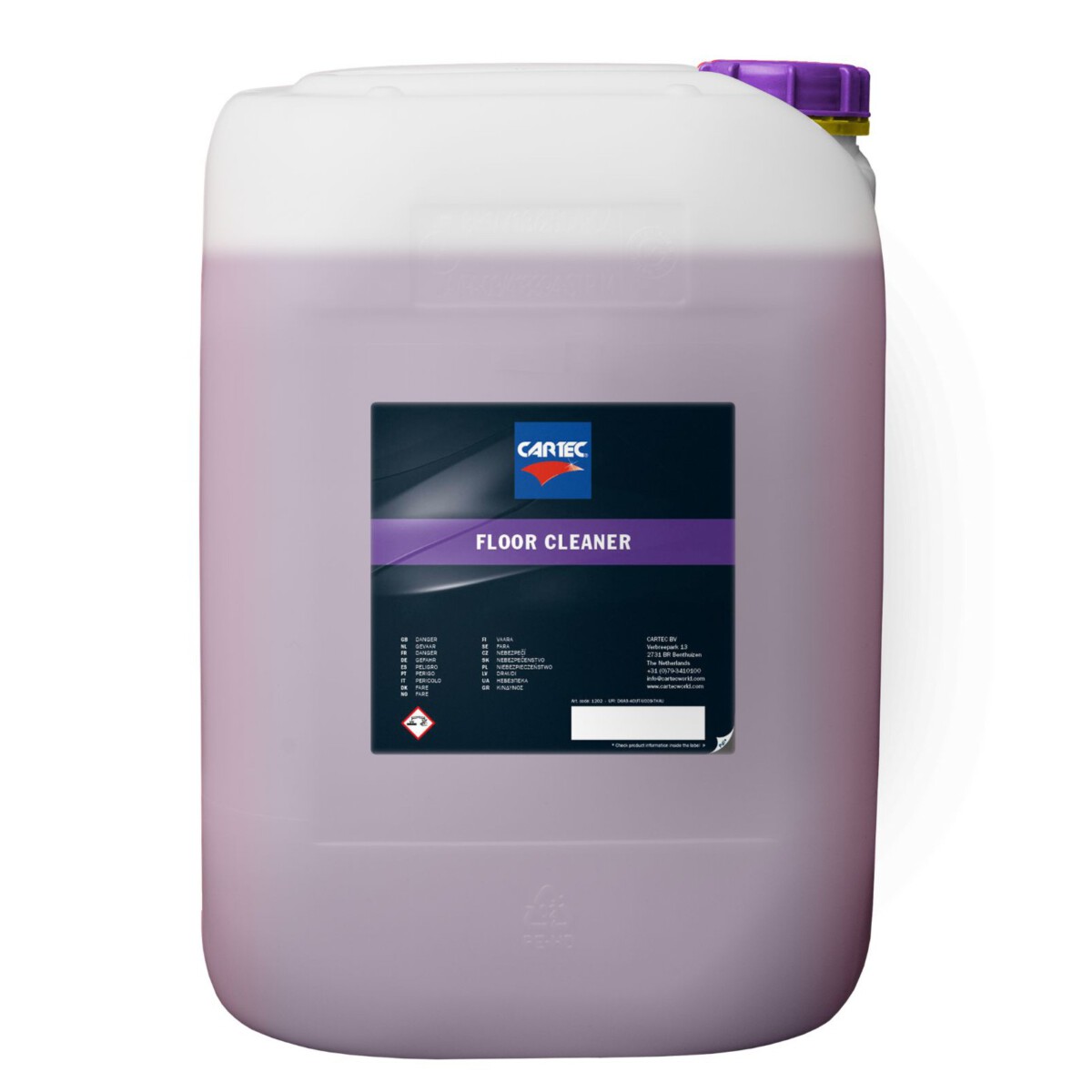 Floor Cleaner
Floor Cleaner is a highly concentrated floor cleaner for industrial floors. It mainly removes rubber/tire marks, but also oil, grease and other strong dirt. Floor Cleaner can be used mechanically and manually, is biodegradable and leaves a fresh scent.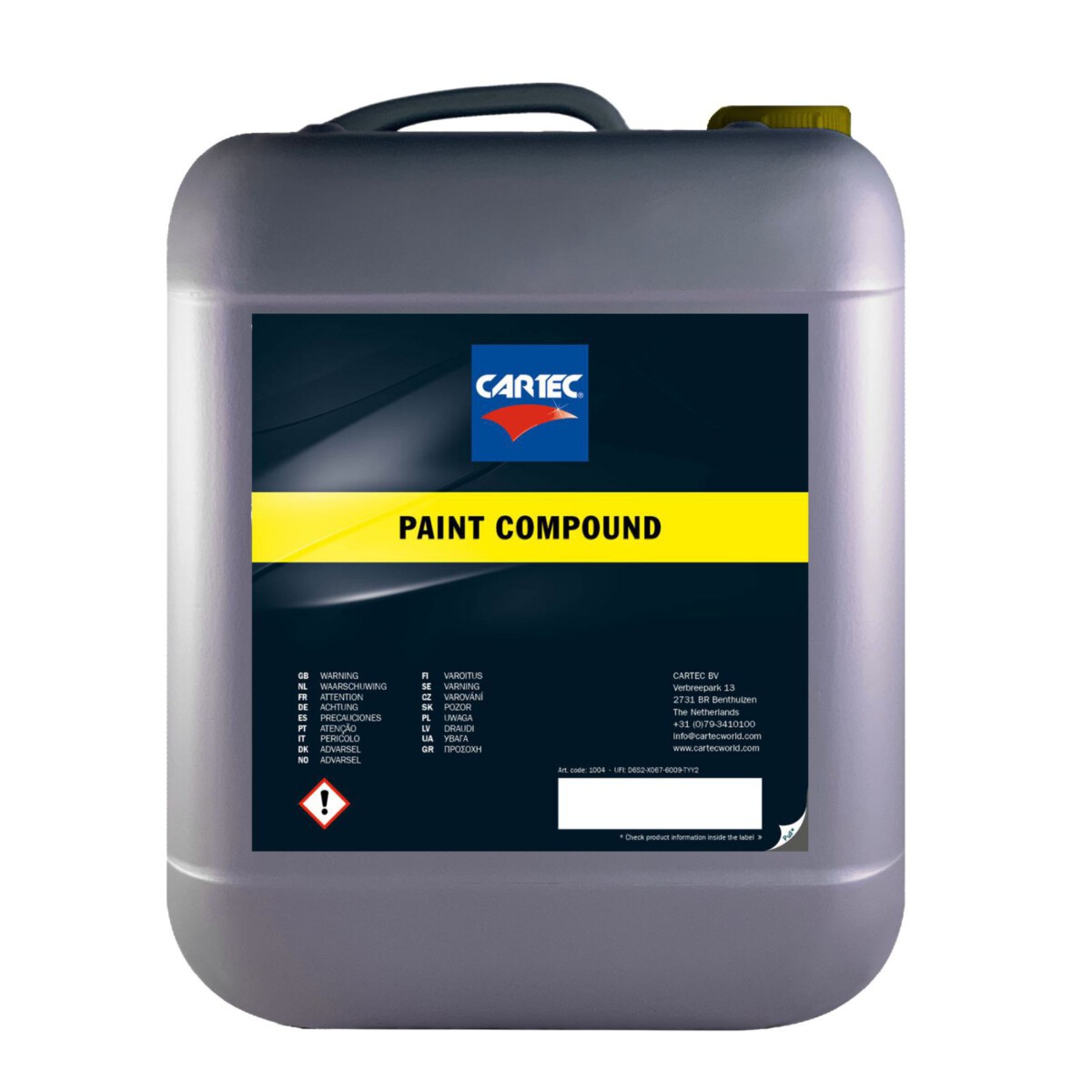 Paint Compound
Paint Compound repairs any paint defects and removes deeper scratches. It restores the paint to its original colour and shine. Paint Compound is silicone-free and can be processed by manual or by machine.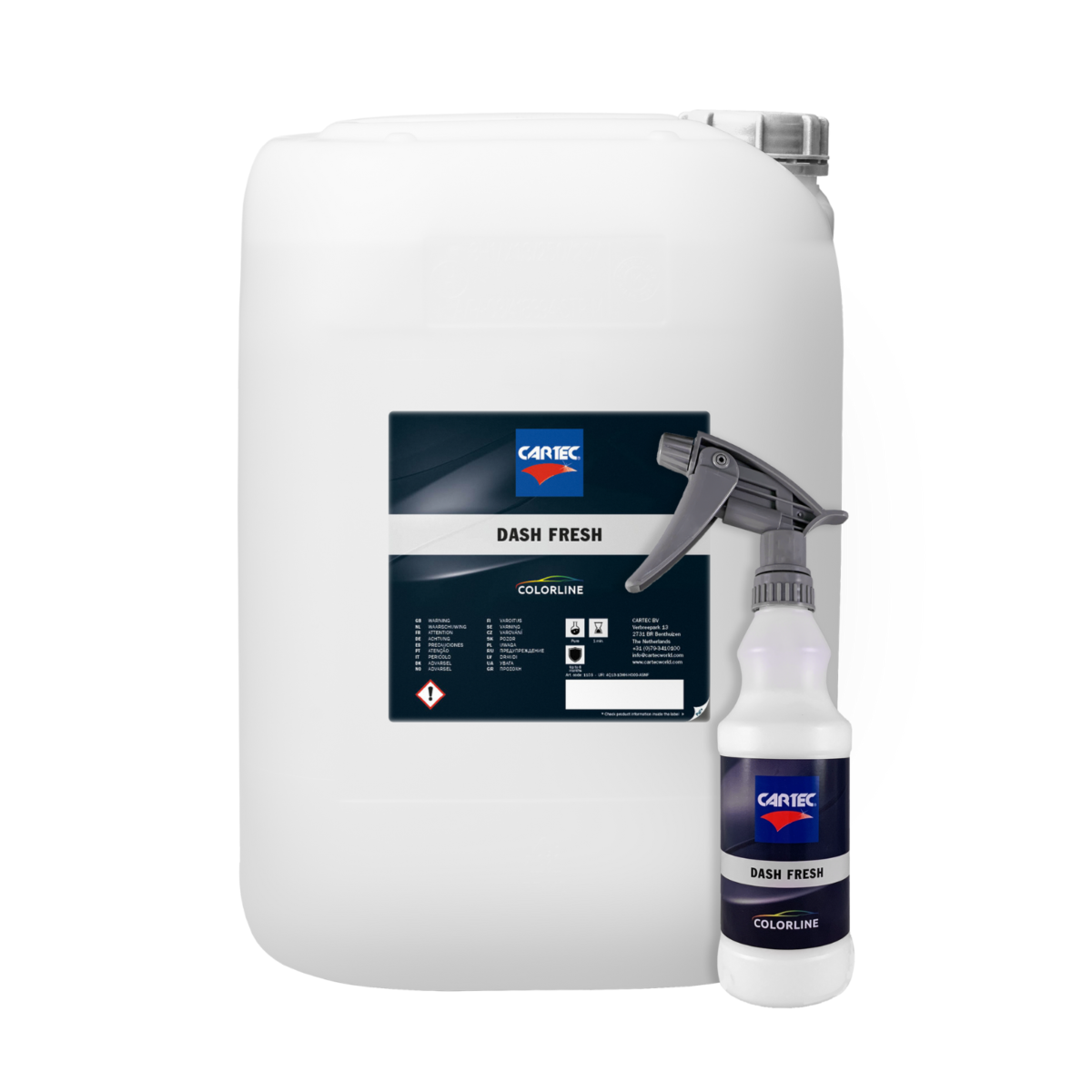 Dash Fresh
An interior dressing that gives all plastic parts a new look. Leaves a grease-free and satin finish with a pleasant scent.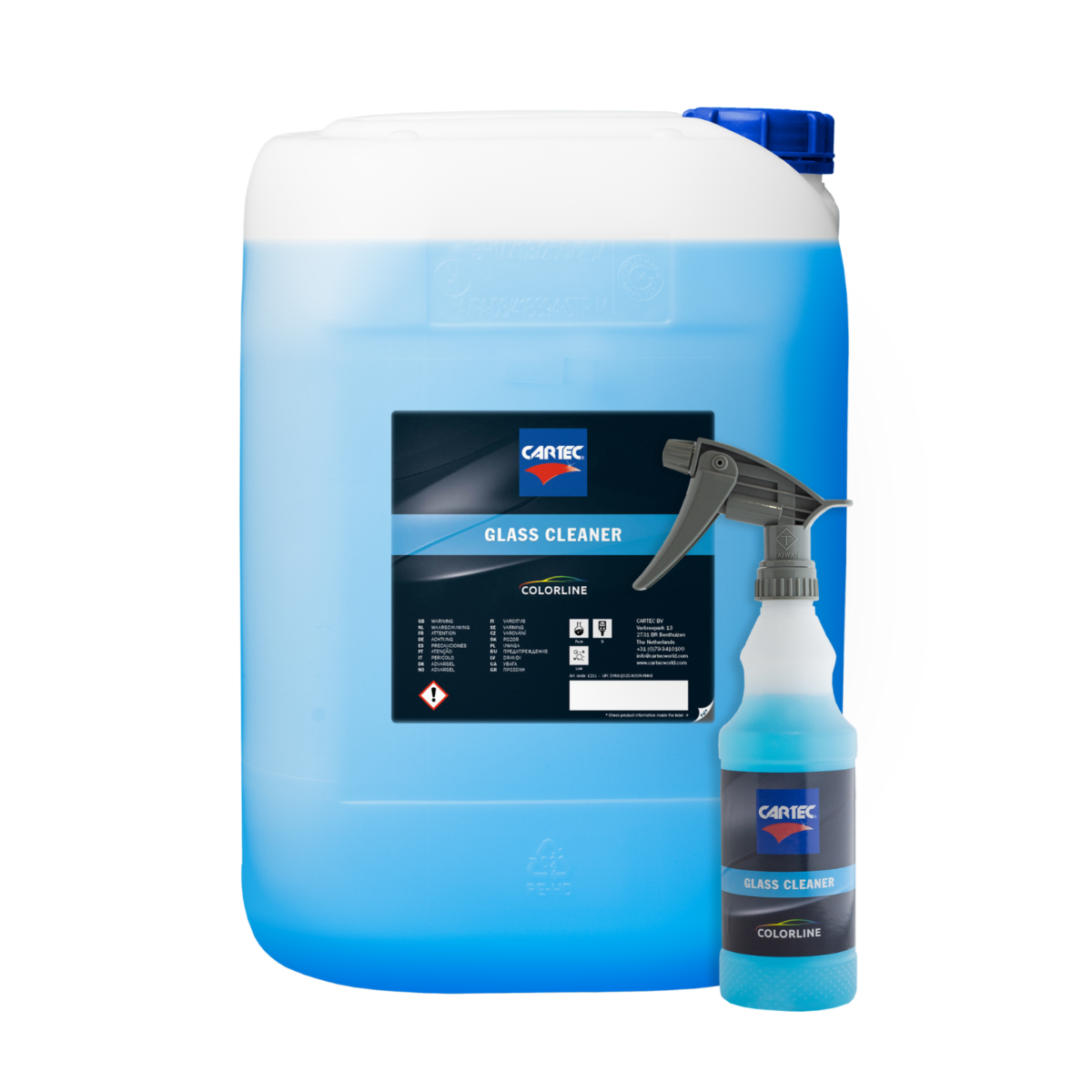 Glass Cleaner
The ideal product for cleaning and degreasing windows and mirrors. Can be used on both the inside and the outside of the car.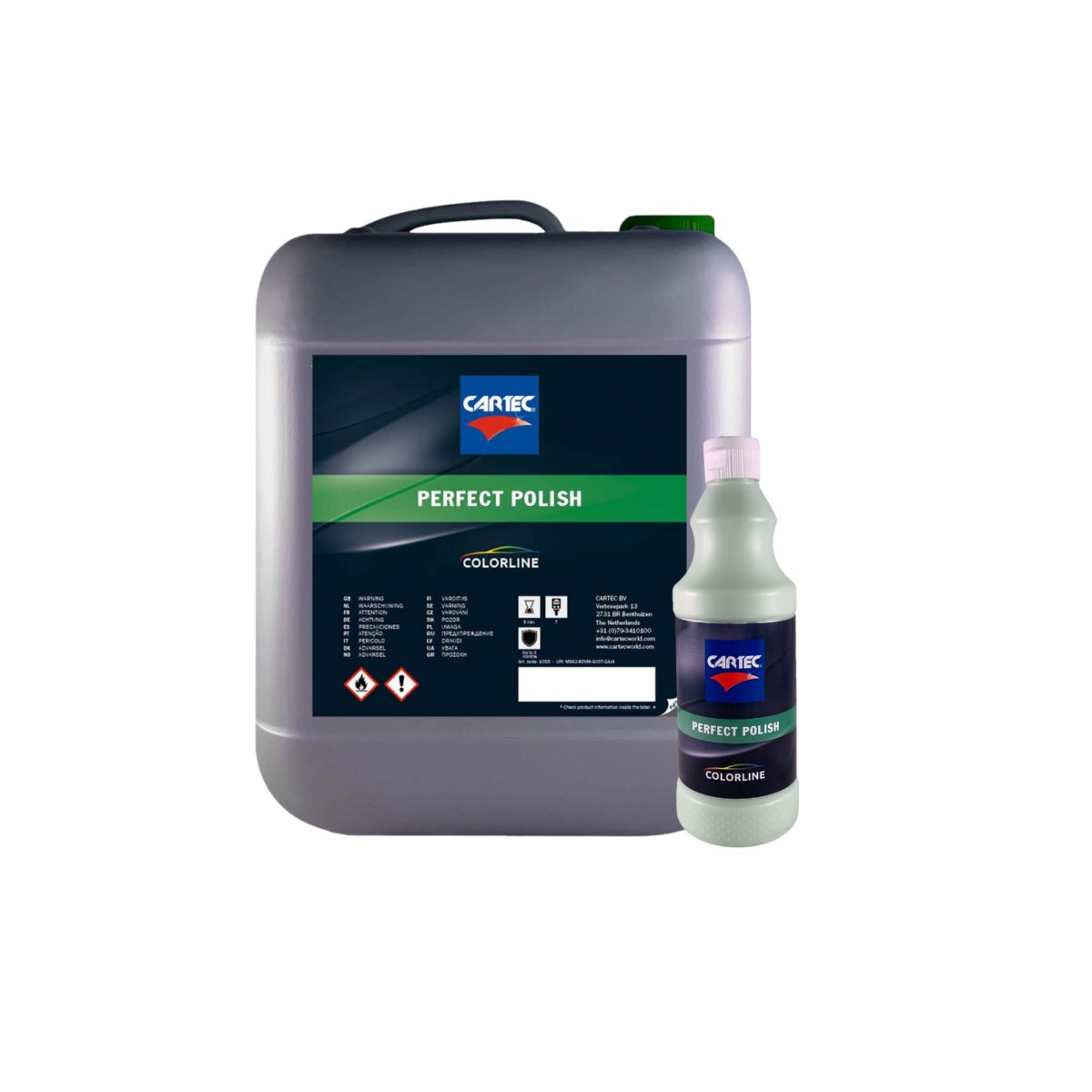 Perfect Polish
The perfect product to give dull paints a new look. This combination of polish and wax gives a long-lasting protection and a deep glossy result.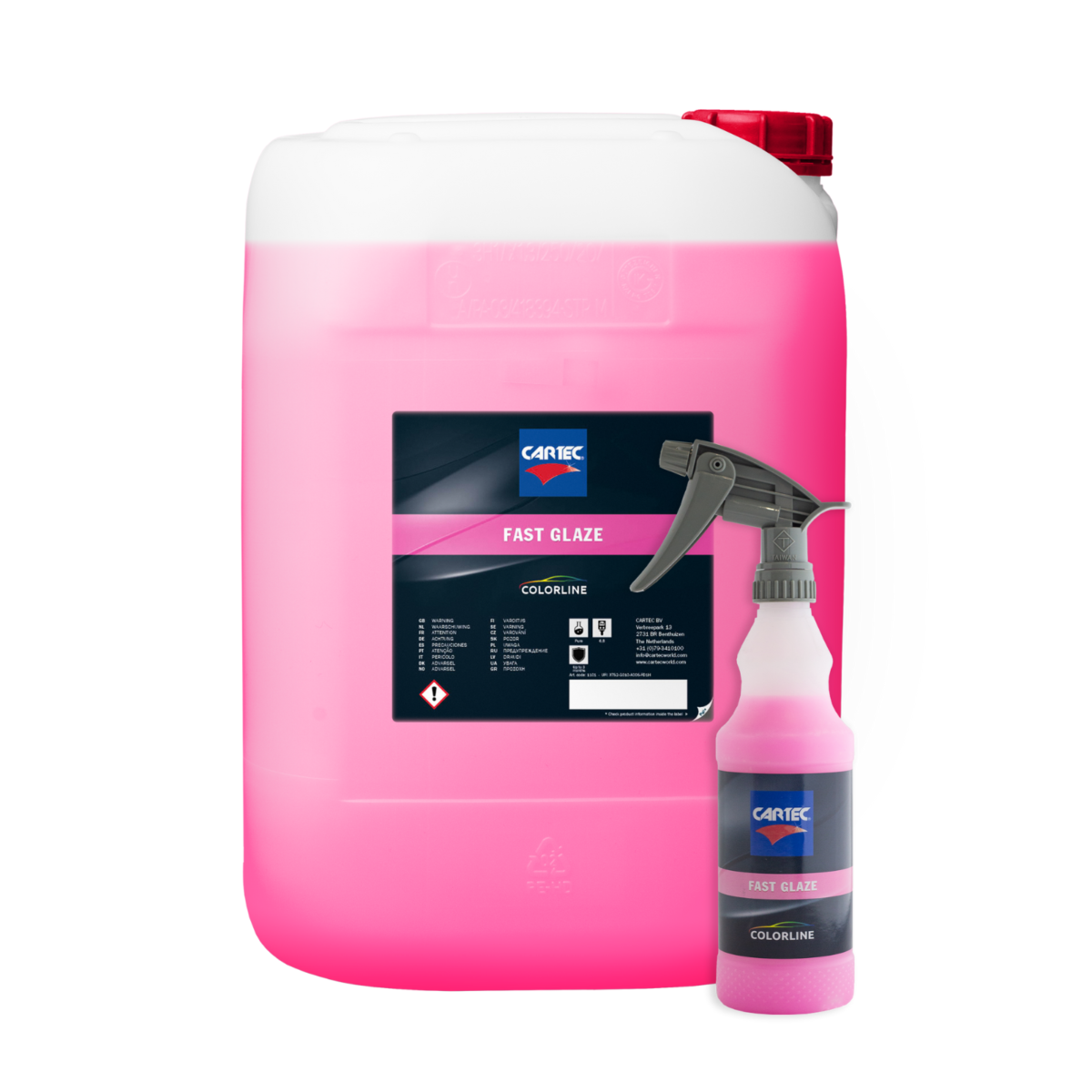 Fast Glaze
This product provides new and polished lacquers with a deep and even shine. Fast Glaze works quickly, effectively and is easy to use. An ideal product to get the car in the perfect "showroom state".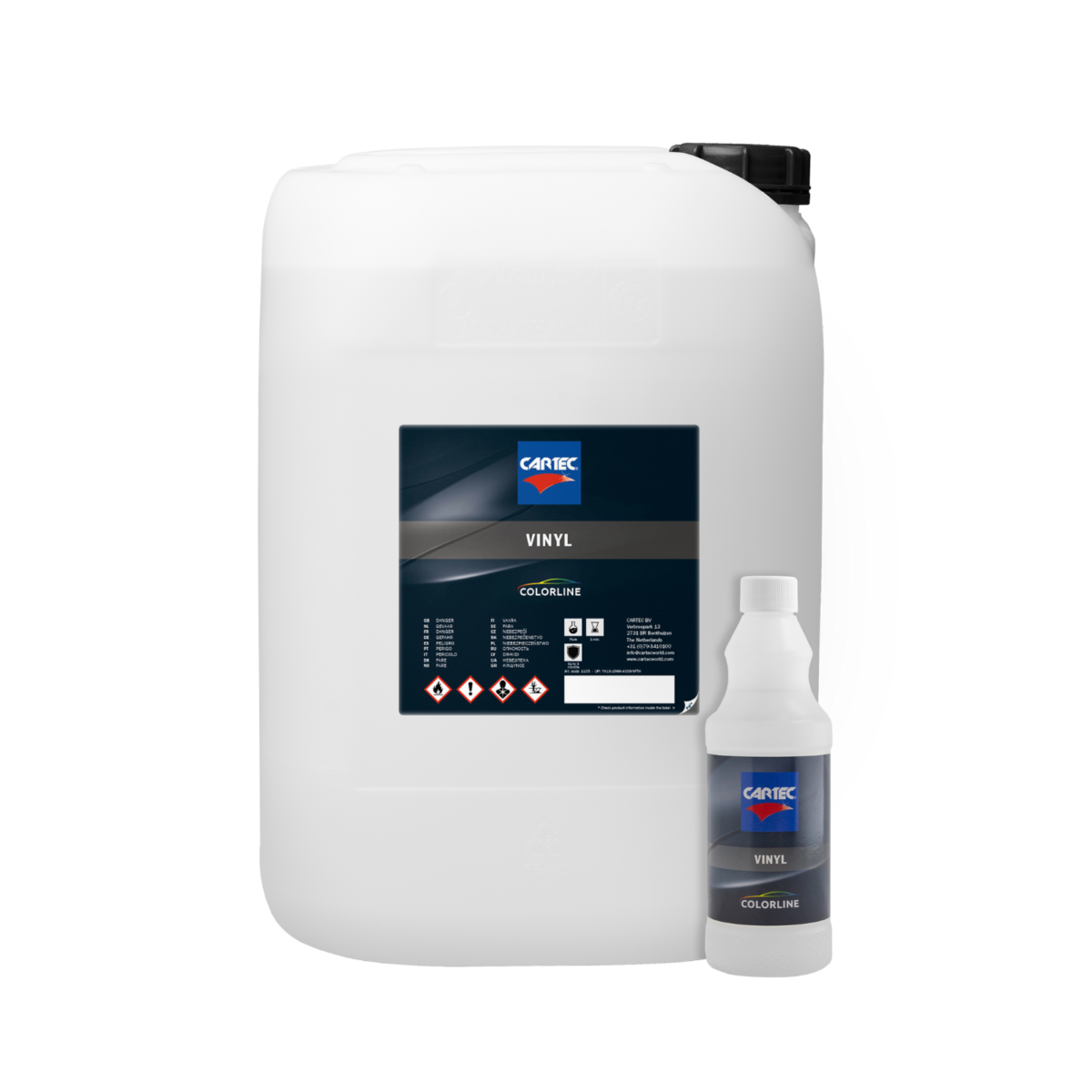 Vinyl
A dressing that gives plastic parts, bumpers and tyres a new and original look. Vinyl has both a cleaning and a protective effect.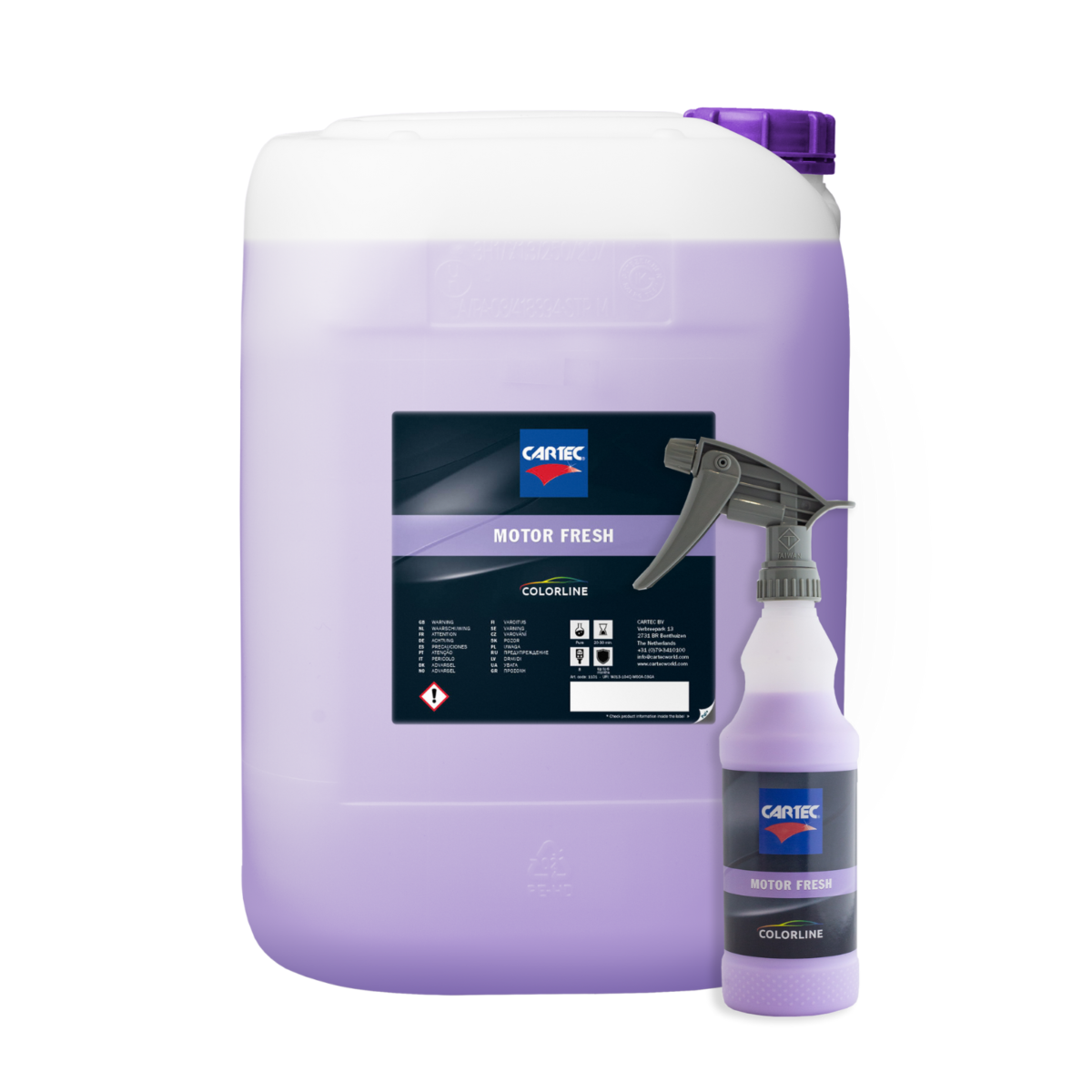 Motor Fresh
Motor Fresh is an innovative and solvent-free product that gives the plastic and rubber parts in the engine compartment a natural and attractive appearance. Very easy to use.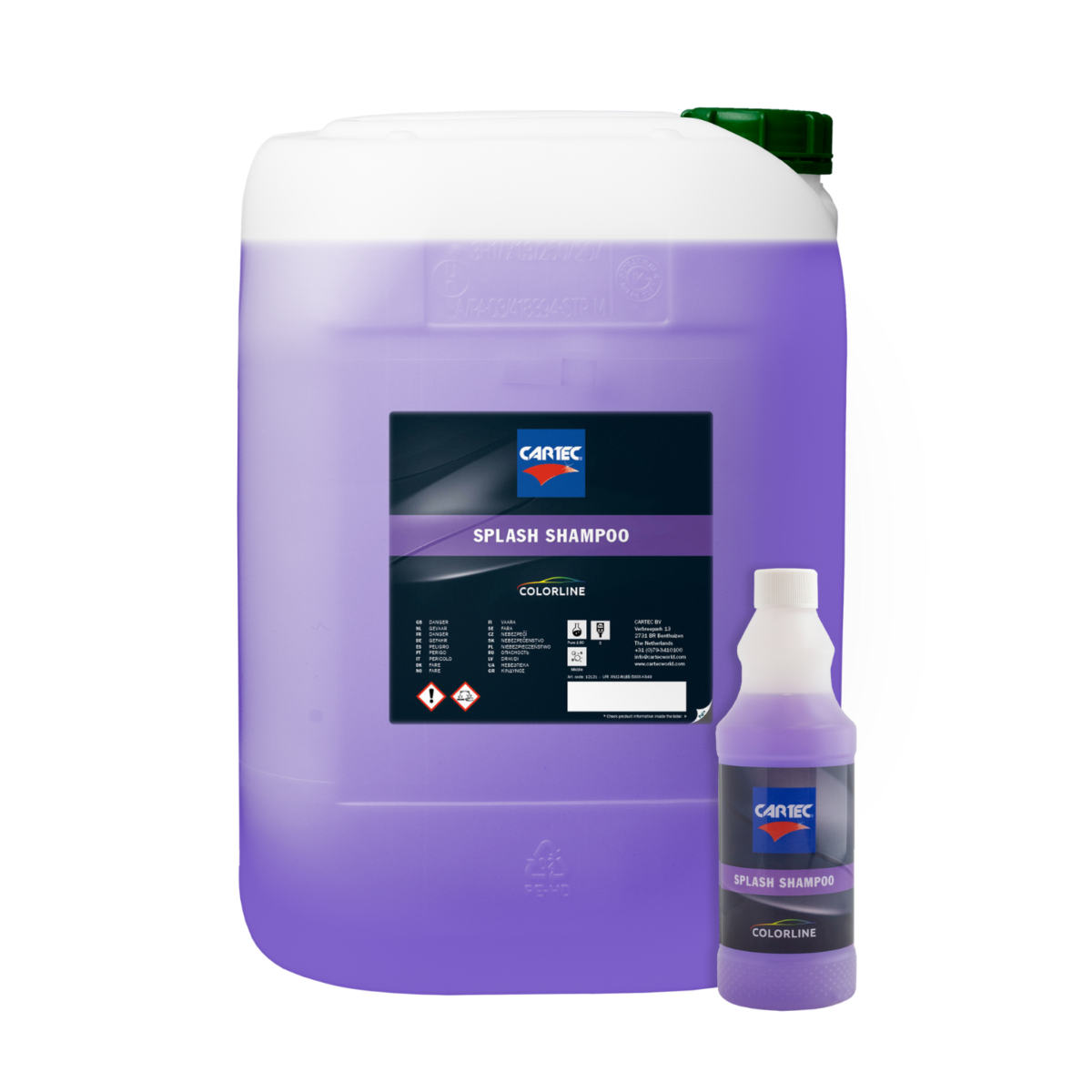 Splash Shampoo
Splash Shampoo is a foaming, cleansing car shampoo that leaves a deep shine and water repellent result. Ideal product for manually cleaning vehicles.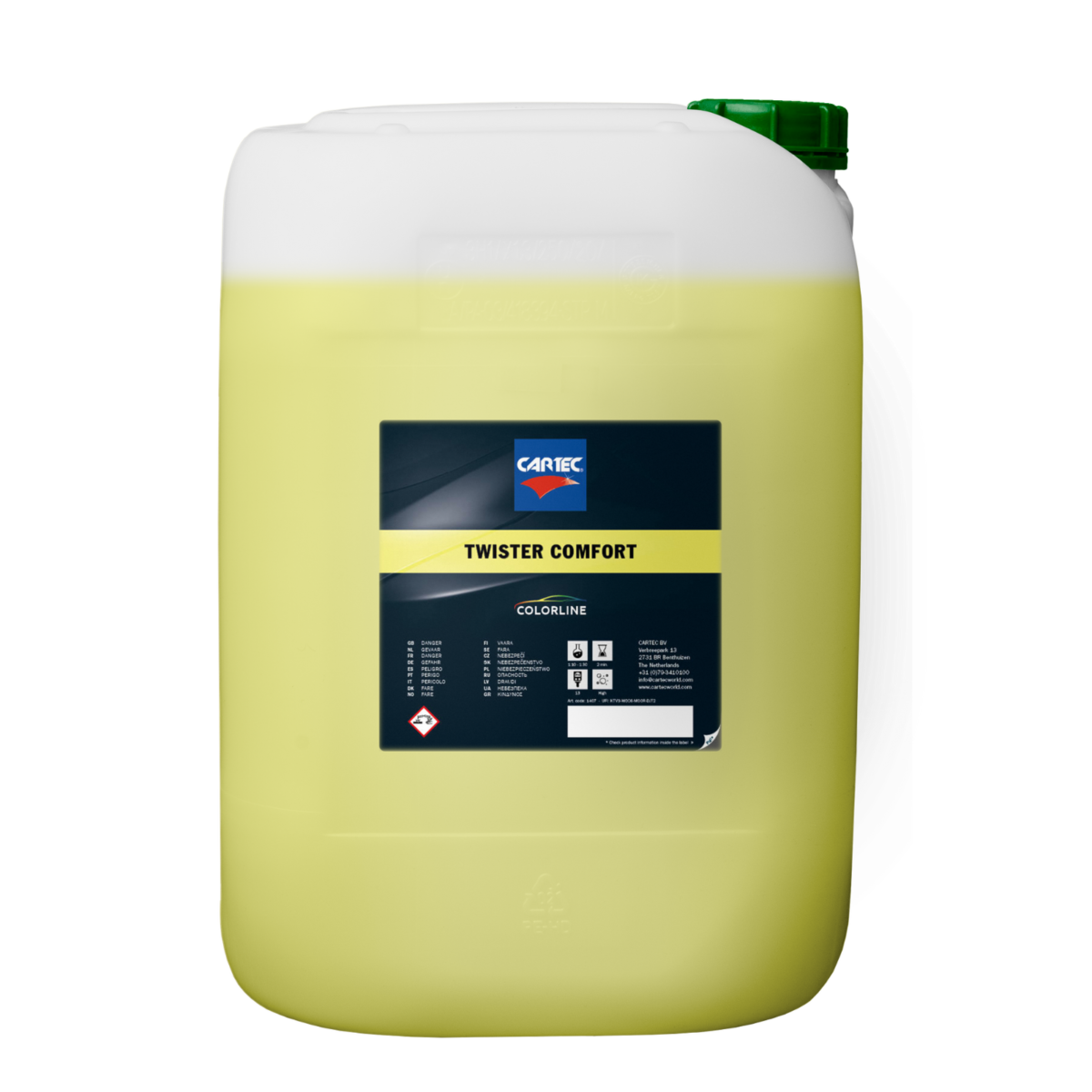 Twister Comfort
A highly concentrated cleaning product. The product quickly and thoroughly removes road dirt from cars and trucks, chassis and tarpaulins. Twister comfort is also an excellent pre-cleaner as it is safe for use on aluminium and chrome.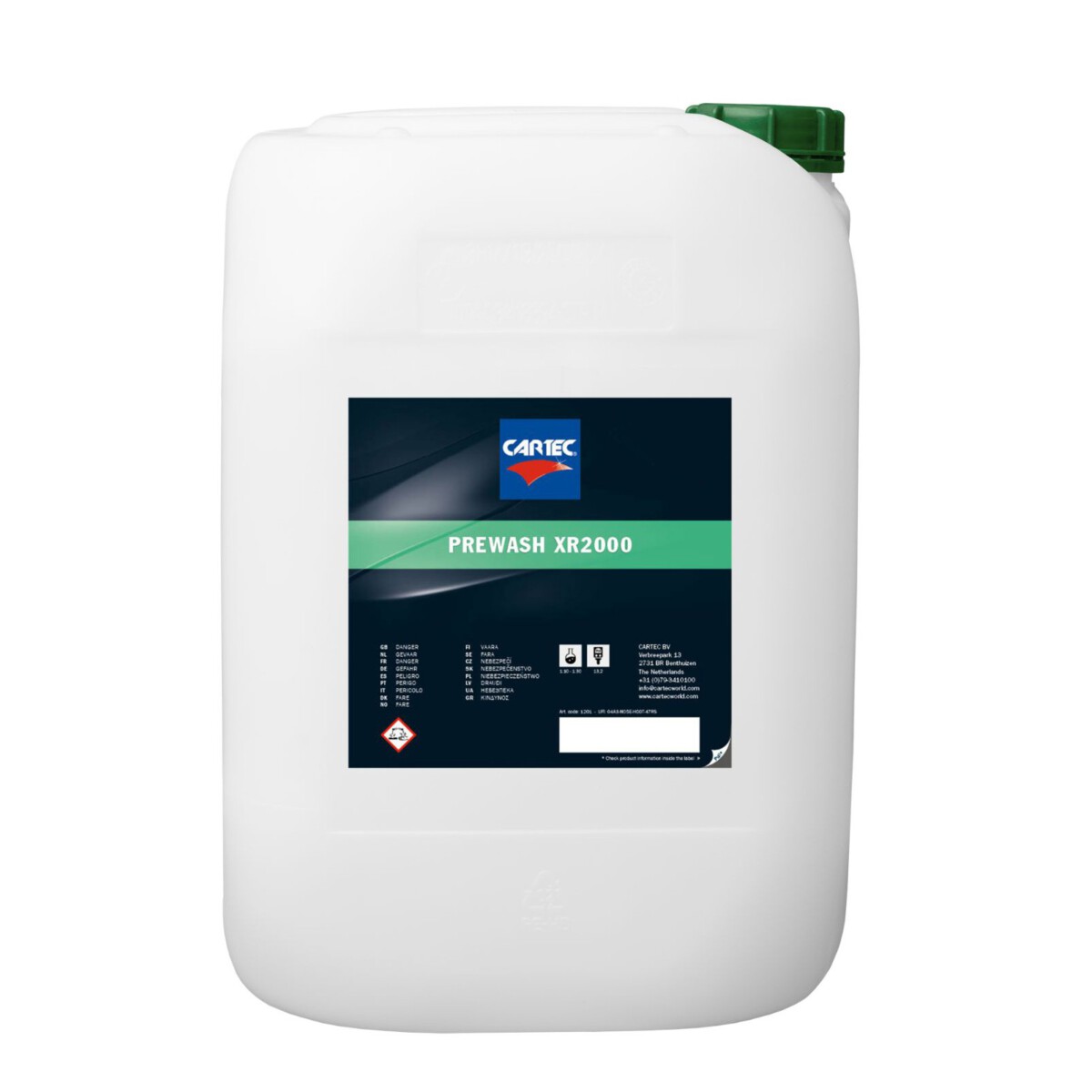 Prewash XR2000
Prewash XR2000 is a strong alkaline pre-cleaner. Very suitable for removing stubborn traffic dirt and insects. The pre-cleaner gives great foam and has a short soaking time, in most applications there is no need to brush when cleaning.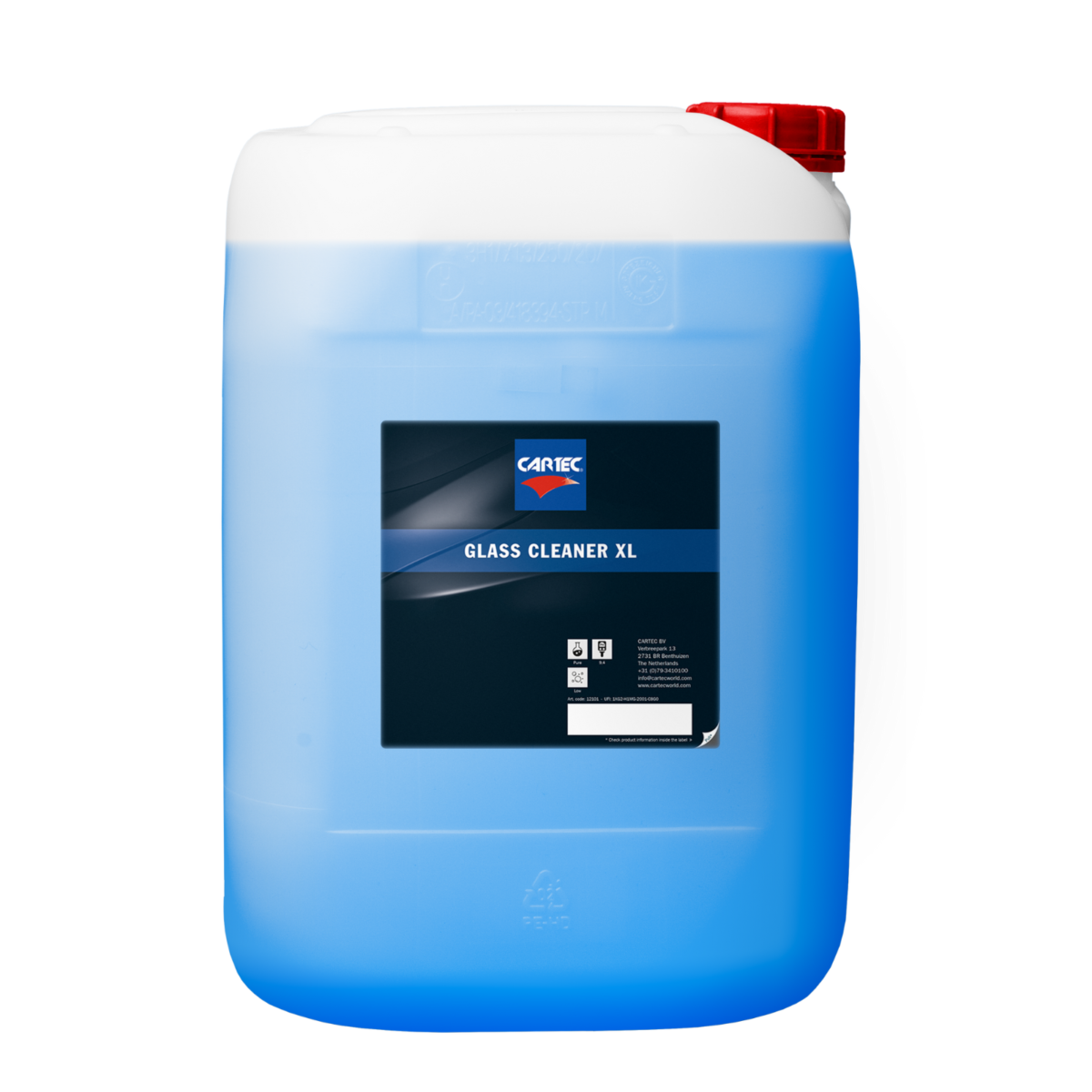 Glass Cleaner XL
Glass Cleaner XL quickly and effectively cleans dirt, stains and streaks on car windows. Glass Cleaner XL has strong cleaning power, optimum drying time, good wetting and is low-foaming. This ensures a result without spots or streaks. Glass Cleaner XL does not leave spots on the dashboard or on plastic parts.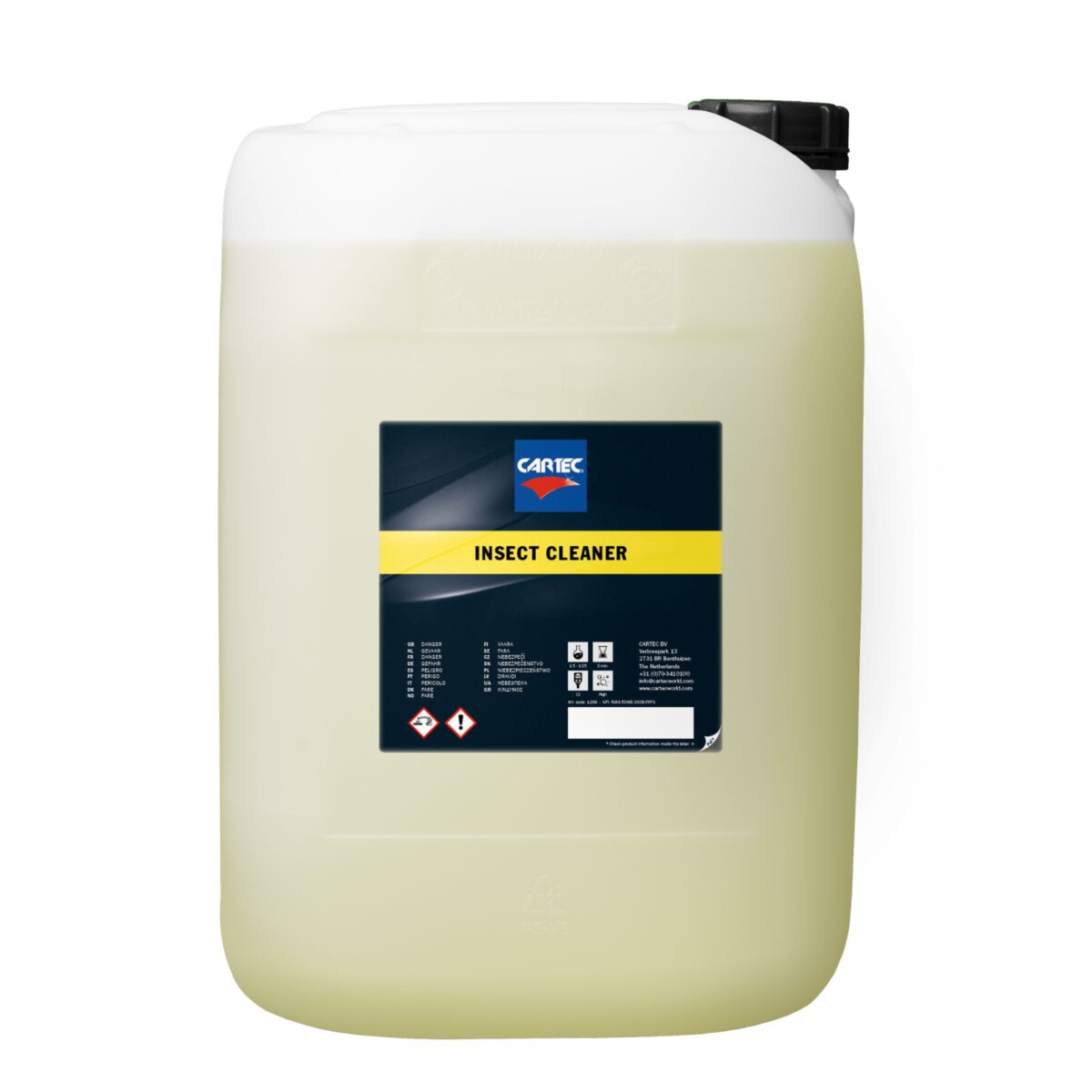 Insect Cleaner
De Insect Cleaner is een sterke reiniger, speciaal ontwikkeld voor het verwijderen van insecten. Insect Cleaner is een hoog geconcentreerd en goed schuimend product. Deze insectenreiniger is niet agressief, veilig te gebruiken is op aluminium en chroom.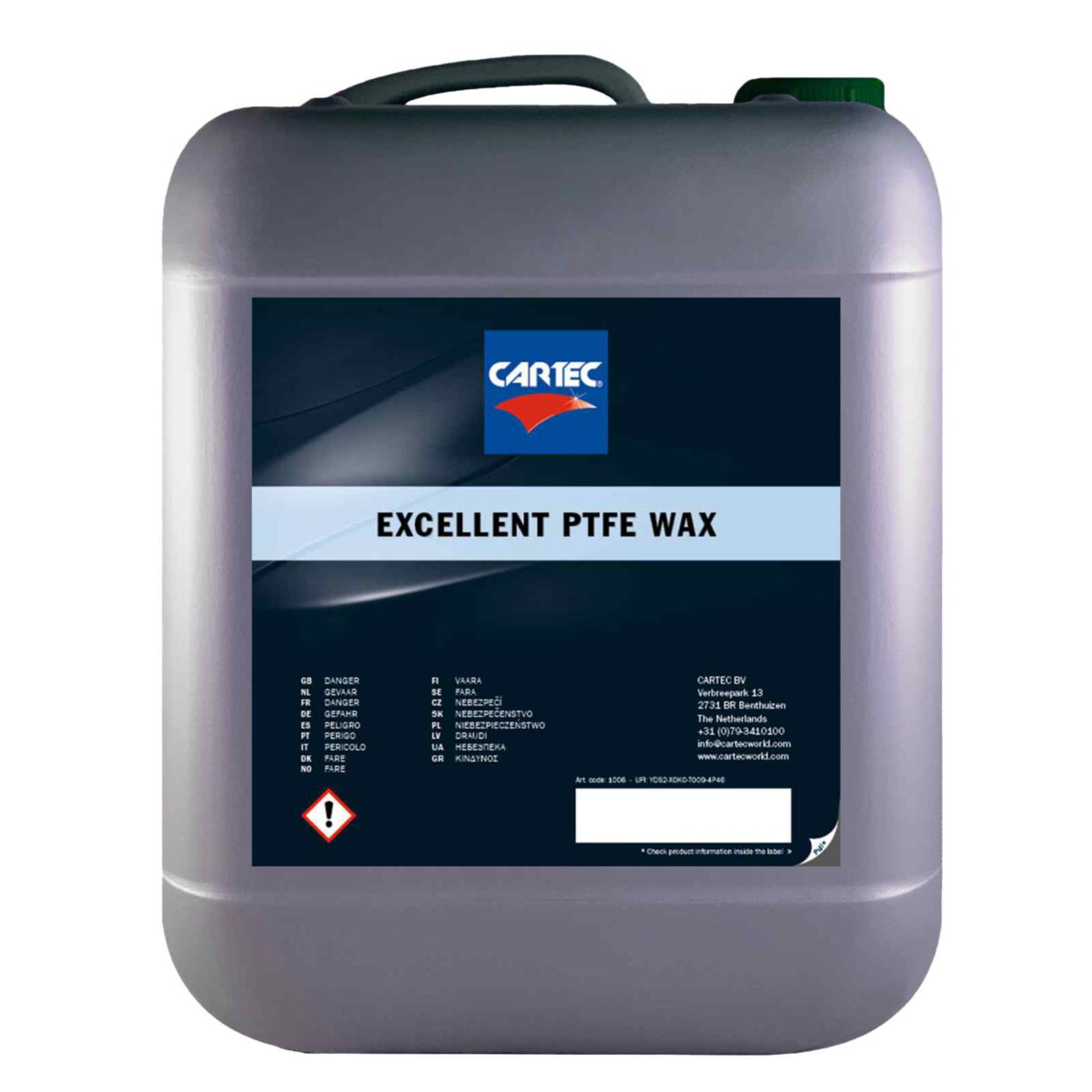 Excellent PTFE Wax
High-quality wax with particularly deep gloss. Gives long-lasting and very good protection. Works quickly on new paintwork. Excellent is very suitable for protecting paintwork after polishing.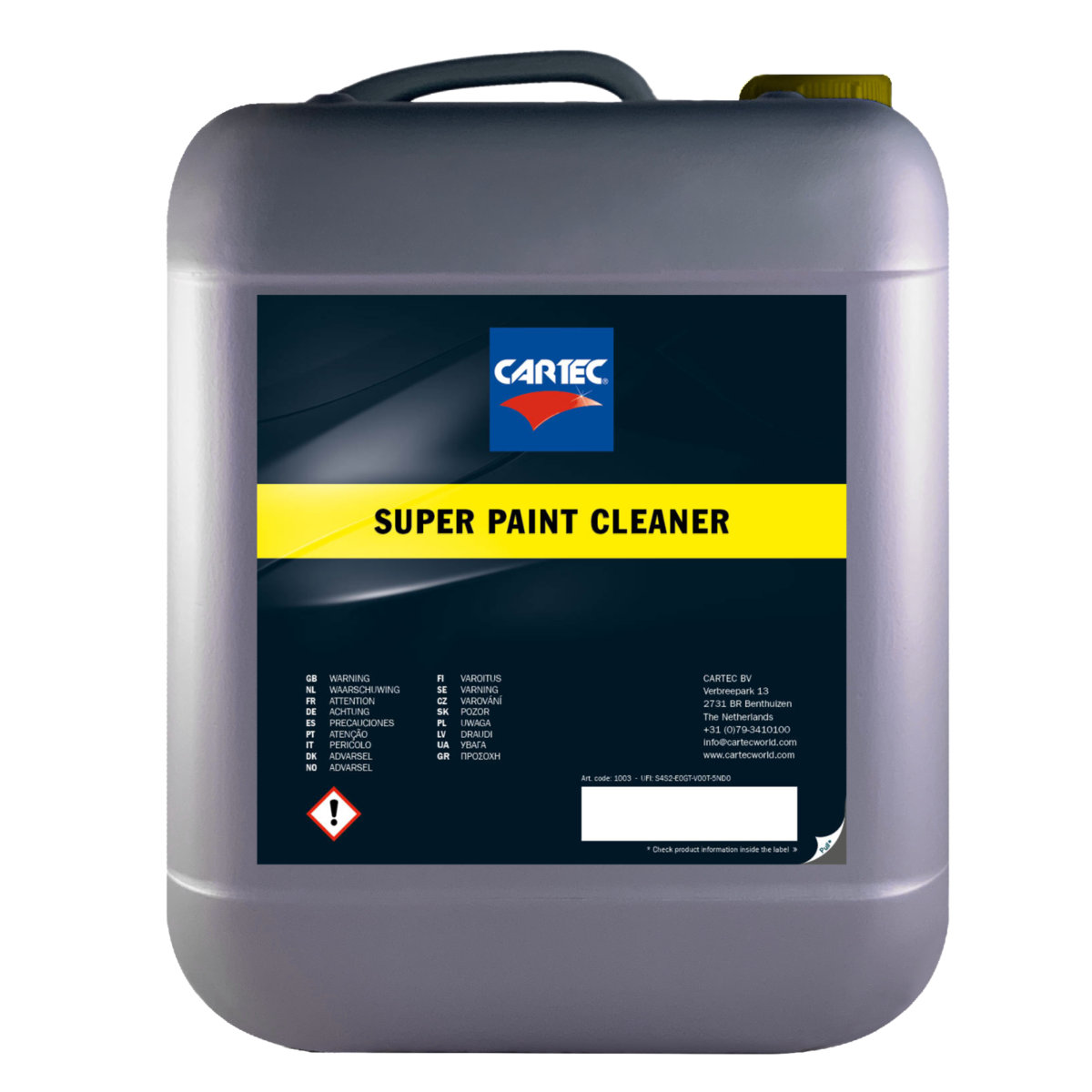 Super Paint Cleaner
A silicone-free paint cleaner for heavily soiled and dull paintwork. Easily removes spray mist and scratches. The product can be processed manually and mechanically.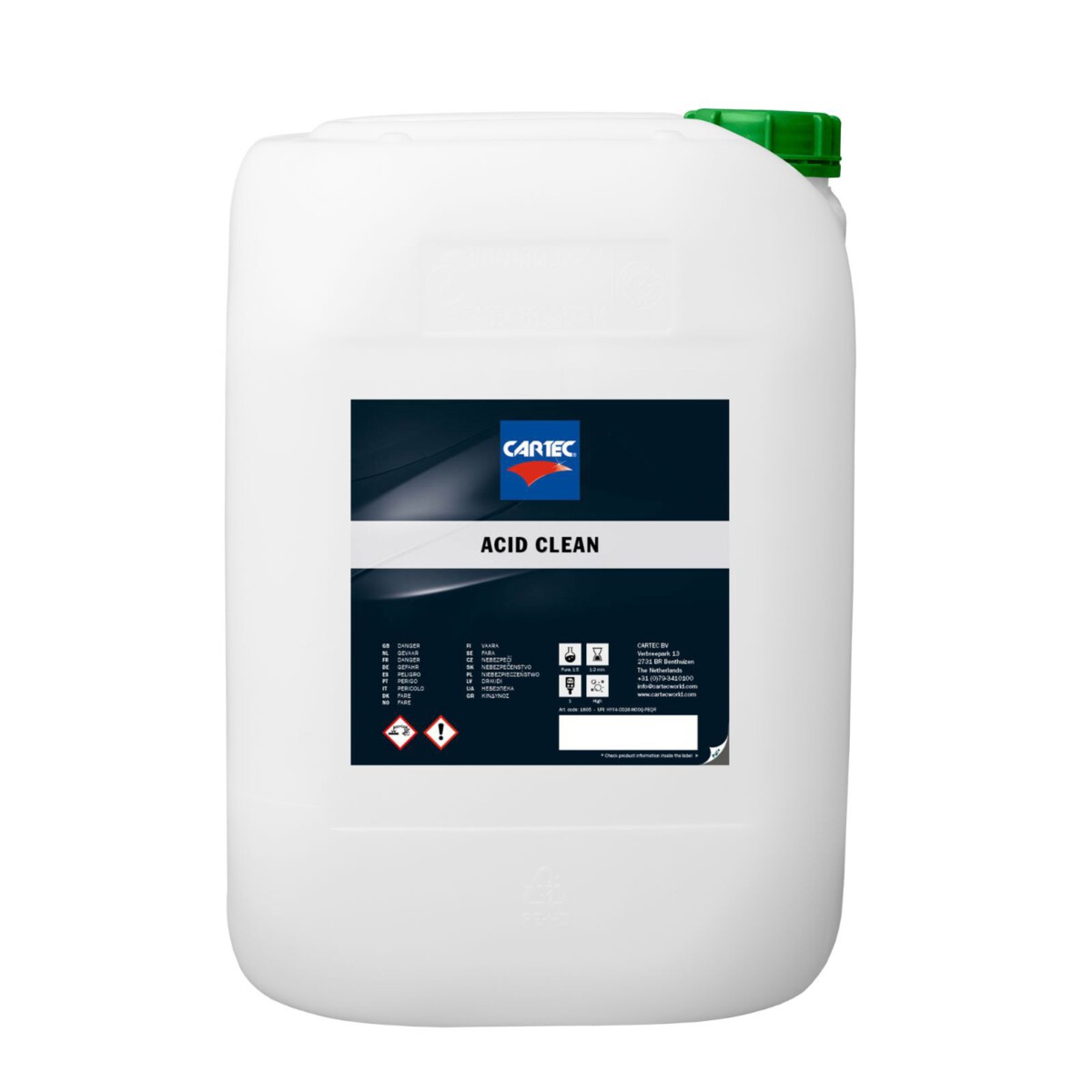 Acid Clean
Acid Clean is a highly concentrated acid cleaner for effective removal of stubborn dirt on rims and hubcaps.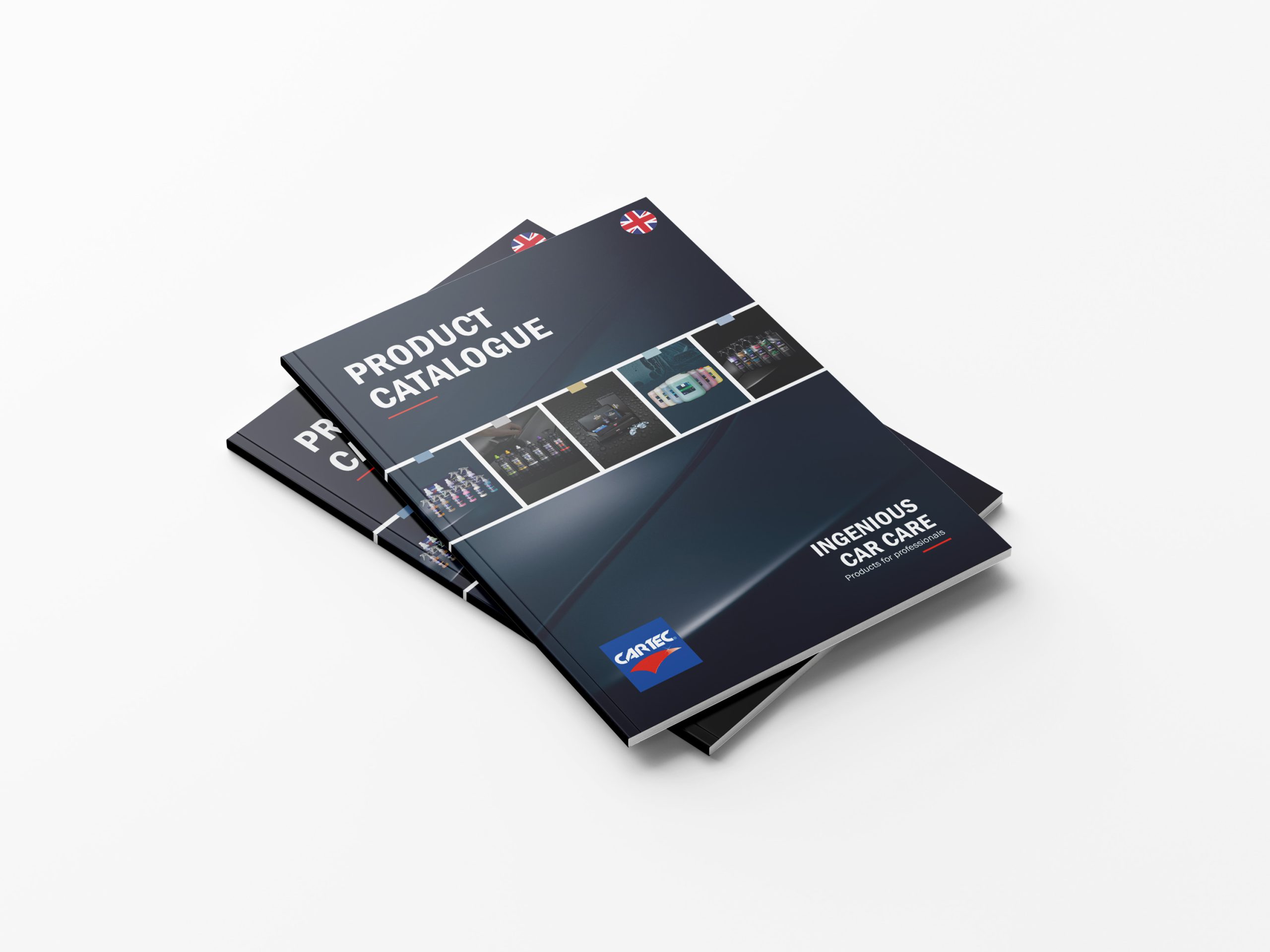 Product catalog
Cartec is your total supplier and has many more professional products in its range. Request the product catalog to see all products.