Durable paint protection
Car wax or coating? Paint protection for the car
You want to protect the car but don't know whether you should choose a car wax or coating. You've heard of ceramic coating, know it costs more than wax but don't know why it's better. Or maybe you already know the differences between car wax and coating, but you don't know which product to choose. In this Insight, we are happy to explain the differences.

The effect of Cartec Perfect Polish 
In brief: what is car wax?
First of all, it is good to name that by car wax and wax we mean the same thing. Both terms are used to define this form of paint protection.
The very first car wax was produced a very long time ago. These were products that were difficult to rub out. Fortunately, the product formula has continued to evolve and application is now much easier.
Car wax consists, as the word suggests, of wax. This can be all kinds of waxes, but a commonly used wax type is carnauba wax. Carnauba wax, as this product type is often called, gives the paint excellent protection. Besides carnauba wax, there are also synthetic waxes, these are also called sealants. A sealant is different from carnauba wax, because it is much more liquid. But also this product gives the car a protective layer.
And what is a coating for the car?
Coating is a form of paint protection for the car for which there are many different terms and variants. Nano coating, glass coating, ceramic coating and for a shorter time also graphene coating, are examples of different terms and variants of coatings for the car. Also read 'The difference between nano coating, glass coating and ceramic coating' to discover more about the differences. For the purposes of this Insight, we will use the term 'coating' and, for convenience, we will add all these terms and variants together to keep it clear.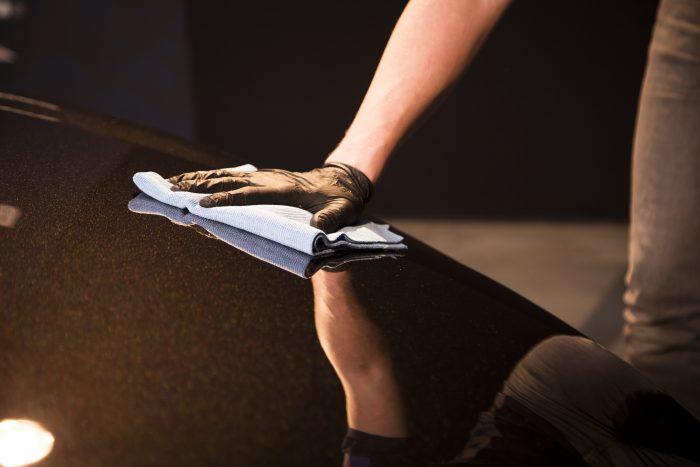 Ceramic Guard SiCarbon+ Coating gives the car's paint a very high gloss
A coating provides a hard protective layer on the car. Once the coating is applied, nanoparticles bond with each other during the curing process. This connection creates an extremely hard protective layer on the car that protects against various weather conditions and pollution. The application of such a coating is often a very detailed process, so it is usually only applied by certified specialists. Such a specialist (or detailer) takes a training course during which he or she learns to apply a coating.
What are the benefits of a car wax?
It provides a deep gloss on the car
Gives the car a protective layer
Washing the car becomes a lot easier
The product is easy to apply
Cheaper than a coating
UV resistant
What are the benefits of a coating for the car?
Provides an extremely deep gloss on the car
Protects the car from light scratches, chemicals and traffic dirt
Makes washing the car very easy
Provides at least 3-5 years protection to the paintwork, including warranty
UV resistant
Very strong water repellent result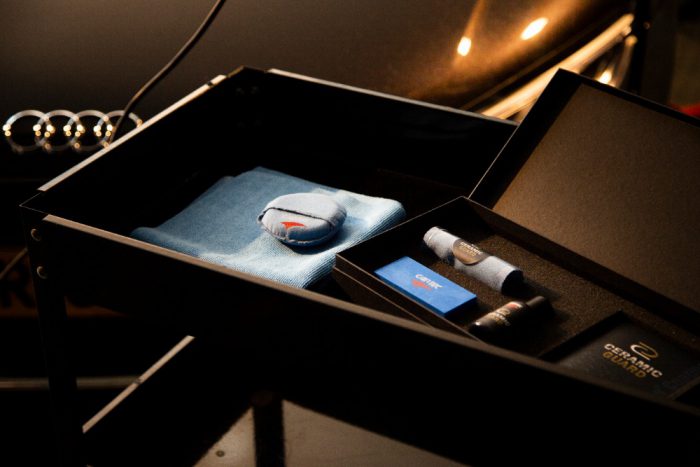 The Ceramic Guard package contains all the items needed for at least one treatment
When do you choose to apply a car wax?
If you want quick results at an affordable price, applying a car wax is a good idea. As a professional, it can also be a good choice to offer the cheaper form of paint protection in addition to an expensive coating treatment.
When do you choose to apply a coating to the car?
You choose a coating when you want to give the car a premium treatment. This means a high investment in terms of cost and time, against a very good layer of protection. As a professional, this can take your company's appearance and offerings to the next level.
Which car wax should I choose?
Will you choose a wax or a sealant? This choice is entirely dependent on what you yourself like to work with. Cartec has several wax products, such as WaxCoat, Perfect Polish and Excellent PTFE Wax. These wax products offer an average of three to six months of protection.
A premium wax product from Cartec is the Wax Guard. Wax Guard consists of microfine particles that bond together during a treatment. This connection creates a very good protective layer on the paintwork that protects the car for one and a half to three years. A Wax Guard treatment is only applied by experienced and trained specialists.
Examples of sealants are Fast Glaze and Royal Shield. These products also provide protection for about three to six months.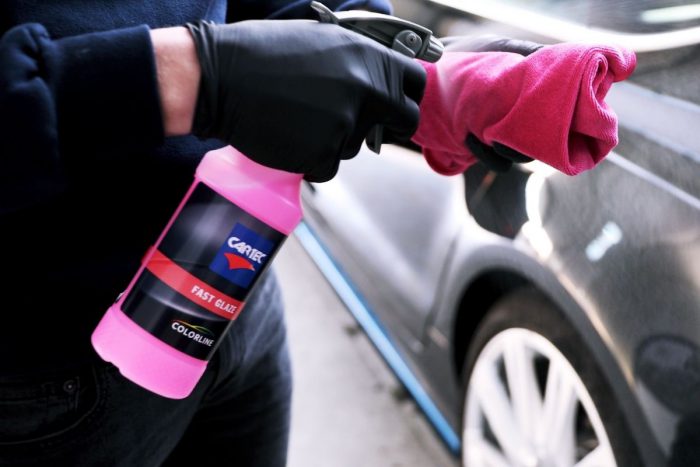 Cartec Fast Glaze gives the car a very nice shine and thin protective layer  
Which coating for the car should I choose?
This depends on the type of coating you choose, or in other words, what the coating consists of. Cartec has the concept of Ceramic Guard. This is a SiCarbon+ Coating. What does it mean? This name says something about the unique molecule that Cartec uses, namely carbon. This coating again works in a different way than a coating that consists of Silicon Dioxide (SiO2). Test results have shown that SiCarbon+ coating provides the car with long-term protection, including warranty.
Read more about Ceramic Guard in 'Make a difference with Ceramic Guard'.
The marketing around coatings is quite big, don't let this distract you too much when choosing. As a professional, it is always advisable to attend a training course to ensure you are applying the coating correctly. Because no matter how good the coating is, the method of application is just as important.
How to apply a car wax or sealant to the car?
The durability of both paint protection products is almost the same, with the exception of a specialist product such as Wax Guard. Therefore, professionals choose mainly based on personal preference. For example, for the kind of shine the product gives or the way it is applied. A sealant is applied to the paintwork by a spray, whereas wax takes the form of a paste and is spread by hand. Some wax products, such as Perfect Polish, also have a cleaning effect.
How to apply a coating to the car?
A coating is applied by a certified specialist. These specialists can be found in many different places in the world. Once the car is protected with a coating, the user should maintain it regularly through a good wash. For this purpose the after care products Ceramic Wash and Ceramic Glaze are very suitable. Ceramic Wash is a shampoo for the car that works safely on a coating, while Ceramic Glaze (a sealant) brings out the extreme shine of the coating again. Cartec also offers with the Ceramic Guard 4life warranty the possibility to have the status of the coating inspected by the specialist every year. In this way, the warranty and protection remain valid even longer than the standard 3 years.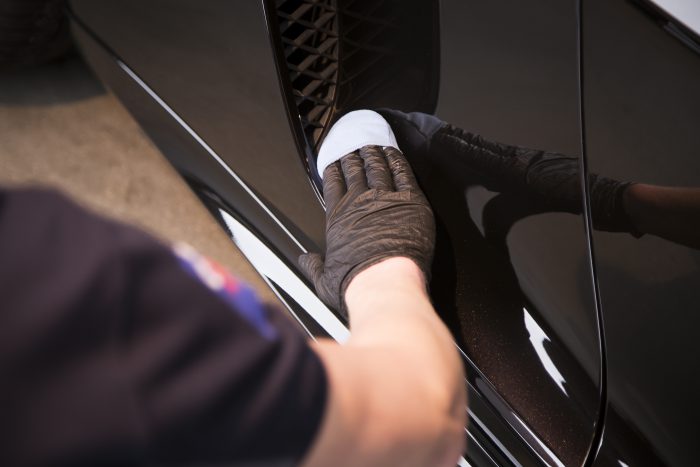 Ceramic Guard's finger pocket also makes it easy to reach those hard-to-reach places
Do you choose a car wax or a coating for your car?
If we only look at the effect of the product, a coating scores higher than a car wax. The overview below shows this:

Car wax becomes interesting if you also consider price and ease of use. As a professional you can of course also choose to include both product types in the offer. That way you have a wide range and the customer can choose what he or she wants to have the car treated with.